Bitcoin and other cryptocurrencies are not only of interest on Wall Street. Who among the stars of show business and sports has already invested in digital assets and who promotes them? Bitcoin and altcoins have long ceased to be the domain of technologists and venture capitalists from California. In addition to the Forbes list and progressive startups, cryptocurrencies in the West have in recent years become actively interested in show business and sports stars. Today we will tell you how Madonna, Mike Tyson, Steven Seagal, and many others invested in or promoted cryptocurrencies. Today a lot of crypto projects on the US market allow almost anyone to create their own crypto wallet and start buying Bitcoins and other cryptocurrencies.
Snoop Dogg
The rapper started selling his music for bitcoins long before it became mainstream – back in 2012. At that time, one album was worth $0.3 BTC, which is about $14,000 at the current exchange rate. The musician never officially disclosed how many bitcoins he managed to sell, and how many he has now. But in public and on the Internet he continues to speak out again and again in support of this cryptocurrency as enthusiastically as Elon Musk does for dogecoins.
In addition, in 2017, Doug became an investor in online broker Robinhood, which is notorious for the Gamestop scandal and subsequent litigation with regulators. The co-investors were Jared Leto and Mark Andersen.
Finally, in 2018, Snoop Dogg was one of the headliners at the XRP Community Night crypto party special.
Kanye West
Another rapper (as well as producer) among bitcoin fans. He first started campaigning for cryptocurrency while recording a podcast with Joe Rogan. He is a famous American sports commentator, comedian, actor, and TV host who manages to talk to his guests about politics and philosophy or about the paranormal in the same relaxed and informative way on his show. West even called bitcoin holders the new hope of America. However, he didn't disclose how much cryptocurrency he had.
Madonna
Madonna is involved in charity with the help of cryptocurrencies. Back in 2006, she founded the Raising Malawi Foundation, which helps orphans in this East African country. And on the eve of her 60th birthday in 2018, she made an agreement with Ripple to raise funds for the fund in cryptocurrency. And the action, by all appearances, was mutually charitable. Skeptics asked the CEO of Ripple if the company paid Madonna for advertising. He invariably replied that the superstar supported them solely for ideological reasons.
50 cent
Here the data are contradictory. Some media wrote that in 2014 the musician accepted 700 BTC as payment for his album Animal Ambition. He himself categorically denied that he ever owned cryptocurrency.
Gwyneth Paltrow
The actress began by becoming the face and advisor of the bitcoin wallet Abra in 2017. Soon she started posting educational posts about cryptocurrency on her Instagram.
Steven Segal
The Hollywood actor, who was granted Russian citizenship in 2016, once got into a nasty story with digital assets. In 2020, the U.S. Securities and Exchange Commission fined the Russian for illegally advertising a cryptocurrency competitor to bitcoin. Seagal had to part with $314,000.
Paris Hilton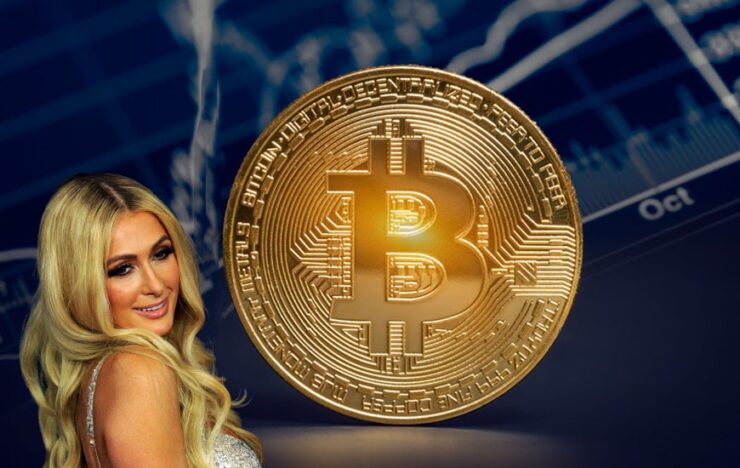 Another story of a celebrity with a not-so-successful relationship with the crypto-world. In 2017, Paris tweeted that she was looking forward to the ICO of the venture-backed blockchain company Lydian and urged everyone to invest in the new cryptocurrency. The initial coin offering never happened, but the CEO of Lydian's parent company was soon sued for domestic violence. But Paris had wiped out the compromising tweet by then.
Lionel Messi
Athletes are no strangers to cryptocurrency. For example, one of the greatest footballers of all time, Argentine footballer Lionel Messi, was not famous for his investments in cryptocurrencies, but became an ambassador for blockchain startup Sirin Labs. After he told his ninety million followers on Instagram and Facebook about it, Google recorded that the word blockchain was being searched more frequently around the world.
Mike Tyson
The boxing king was also one of the pioneers of the bitcoin movement. Back in 2015, he became a partner of a producer of cryptocurrency ATMs. The collaboration developed so much that it came to the issue of ATMs, which were decorated with an ornament in the form of a tattoo of Tyson's face.
Serena Williams
At first, the famous tennis player did not advertise her investments in cryptocurrencies. But in April 2019, she posted a post on her Instagram account about the Serena Ventures fund she had created five years earlier. It turns out that Serena regularly invested millions of dollars in various projects, among which is the leading cryptocurrency exchange Coinbase. The official website of the tennis player's fund states that the total capitalization of the portfolio exceeds $12 billion.
Serena's husband Alexis Ohanian, co-founder of the Reddit portal, also supports cryptocurrency. He was one of the first to invest in Coinbase back in 2011. And in 2020, he predicted another "crypto-spring" and emphasized that he didn't think to stop investing in cryptocurrencies.
Who else has invested in cryptocurrencies
Of course, not only show business stars and athletes are into cryptocurrencies. Of course, everyone is tired of the example of Elon Musk, but many are not inferior to him. Take the eccentric founder of the Virgin Group, Richard Branson. In 2014, he invested $30 million in the Bit Pay platform, which processes bitcoin payments. It is not known exactly how much of this cryptocurrency he has himself. However, let's not forget that, according to Forbes calculations, his fortune has grown by half in the last year alone: from $3 to $6 billion. Perhaps the surge in bitcoin prices played some role here?
The leaders of the billionaire ranking are not far behind. What can you give Microsoft founder Bill Gates, who has everything, for his birthday? Bitcoin, of course!
Moreover, the fashion for bitcoins has even reached the Russian business elite. Sberbank President Herman Gref pioneered this trend. As he himself said in 2017, Gref used his first bitcoins to buy an American T-shirt for $5, which was worth 12 bitcoins at the time of purchase. Several years later, the banker concluded, he would never have been able to throw away that T-shirt, because it was the most expensive item in his closet. In 2019, Gref admitted that he had lost his bitcoin wallet. When the Central Bank forbade Sberbank to work with bitcoins, its head reacted philosophically:
"We never had any grand plans to work with cryptocurrencies, never involved a large number of our clients with cryptocurrencies. We followed the customer. I'm glad that the hype has gone away from this market, and we are left with normal work with blockchain technology."
Today you can also invest in cryptocurrencies – one of the most profitable and stable opportunity is to start your own crypto ATMs business with Bitcovault – you can read more at our web-site.
Herman Gref, President of Sberbank
In recent years, Mr. Gref reminds us that cryptocurrencies are the most dangerous instruments for investing, and then he launches his own digital asset, SberCoin. The eyes are afraid, but the hands are mining.