Lana Del Rey's new album and musical career are the results of battling snide remarks and winning her parents' approval.
Not long after the release of Born To Die, Lana Del Rey told Vogue that the major label release will be her last one. "I feel like everything I wanted to say, I said already," the American songstress was quoted as saying.
That was back in 2012, a year that also saw the New York native facing allegations of record label constructed artistry and fakery after a disastrous live performance on Saturday Night Live and her less-than-stellar musical endeavours in the past surfaced – a far cry from the sultry singer who captivated the Internet with the haunting Video Games.
With the barrage of negative criticisms, it would appear that the former Elizabeth Grant has indeed depleted the Lana Del Rey character. But somewhere along the line, Born To Die shipped over seven million copies worldwide and went on to become the fifth global best-selling album of 2012.
Maybe it was the realisation that bad press doesn't necessarily impede record sales because two years after that Vogue interview, we're greeted with Ultraviolence.
Del Rey took some time to talk about the follow-up to her commercially successful debut in an interview transcript provided by Universal Music.
After your last album, Born To Die, you announced your retirement from music. Yet, here you are again with Ultraviolence.
I can't start an album if I have no idea of the narrative, the concept. If the songs aren't perfect for me, what's the point of forcing myself?
That's why I answered that I had no album planned. But everything opened up after a chance meeting at a party with Dan Auerbach of The Black Keys. Some kind of chemistry happened.
What gave this slightly hippie, 1970s tone to Ultraviolence?
The first song of the album, Cruel World, decided everything. It places the album geographically. In the beginning of the text there's something minimalist, a simplicity that repeats over and over, very low profile.
And then the chorus comes with its big drums, its electric mess. This mixture, this cohabitation between normality and chaos is very symbolic of what I'd just been through in my life.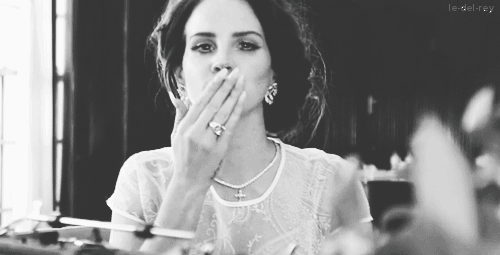 Your songs offer a strange mix of luxury, opulence and sadness. A bit like Roy Orbison …
I feel like I'm making happy songs but when I have people listen to them, they tell me how sad they are.
I can't run away from my life, which was pretty tumultuous. Three years after my real debut, I'm still plagued by both doubt and sadness. I just have uncertainty, emptiness in front of me.
And I don't like not knowing where I'm going. My love life, my family life … I'm not sure of anything. That's why I hate when I can't write because for ten years, writing was the only stable, reassuring thing in my life.
You grew up in the countryside. Was it lonely?
No, I had a real group of friends, inseparable, we were very similar. It was the first time in my life – and the last – that I felt such friendship.
But at 14, I was sent to boarding school, because we did a lot of bulls**t together – like going out with older boys, running away
to parties.
In this school, I became friends with one of the teachers – he was 22, I was 15 – who helped me discover Jeff Buckley as well as Tupac and Allen Ginsberg.
When I arrived in New York at the age of 19, I tried to find this lost friendship again with people my own age. But it was too late, they all seemed obsessed with their careers, their social success … so I wondered where the musicians were, (people who were) willing to sacrifice everything for their songs, ready to die for them.
So you had the feeling of burning bridges with this idea of social success?
I read a book by Napoleon Hill that talked exactly about the need for an artist to burn bridges with any career opportunity. For years, my life took place in my head, no one knew anything.
It was almost like a double life. I felt so lucky to be receiving these songs which I never told anyone about because for a long time, except for my roommate, nobody heard my songs.
But there was a real enchantment. The music came over me, literally. Entire songs, already composed and arranged rushing out of my pen, onto my notebook. I knew it was in me.
When I was 20, since nothing was happening, I decided to continue responding to this call, whatever it took. It sounds strange, but I was a fan of my music. I was terrified by how others saw me. It's so personal, music, that we're inevitably frightened by rejection.
At what point did you feel you were right to hold on?
During the recording of Born To Die, I'll never forget my father's visit. He was amazed to see me so sure, so in charge, so fulfilled, asking the producer to give me a beat or a symphony. He had no idea what I'd done for the last six years, that I'd patiently built my little world. My parents didn't even know I sang.
But when he saw me in the studio, my father told me it was one of the happiest days of his life. My parents had insisted that I didn't leave school for music – and I finished my studies in philosophy, because I knew they could feed my songs.
I told them early on that I wanted to become a singer, but they didn't get how passionate, how serious I was. But suddenly when my father saw me, he understood, it validated six years of work.
What part of your work is pleasure, inspiration, hard work, pain … ?
The pleasure begins and ends with the recording of the album. Then comes the pain. I'm extremely involved in every phase of the album until mixing, mastering. I don't leave the mixing board until the moment we hand over the tapes, a moment of sadness.
Then touring begins, painful, or the promotion, difficult. I feel I have to justify myself, to defend myself, when I don't even feel the need to because my music is good enough not to have to do that. Deep down, I'd prefer to remain silent.