New Zealand is extremely popular among solo travelers, adventurers, and business professionals, which we have a detailed article for business travelers at Star2. The country knows ways to charm its explorers with exquisite beauty and cultural space. You are here, so your New Zealand is almost finalized. However, it is very important to give your thoughts final planning and implement it innovatively.
There are multiple tips and techniques to make your visit successful and progressive. You must follow a cultural guide to shape your thoughts and fragment unique ideas to make the best of your trip. Here are some crucial traveling tips that you can inculcate to make your traveling experience the best.
Know the i-Sites
Every town or city has its i-Site. For those not aware of i-Sites, you can find brochures, maps, and other essential details about areas you wish to pass through or are passing through. Usually, intercity buses stop near these sites making the space more happening. You can also book an advance ticket for your next tour. You can easily find the local branch here if you need additional information about the travel services or the area,
General Safety and Awareness
If you compare New Zealand to other places, you already know the answer. The country is safer than many other places out there. But, this doesn't keep you away from the general rules. These rules include locking up your valuable items, learning about unexplored places, knowing when and where to go, and avoiding walking alone on the streets at night.  Also, in case of emergencies, you can dial 111 to connect with ambulance services, police, or fire department.
Check the Seasons and Plan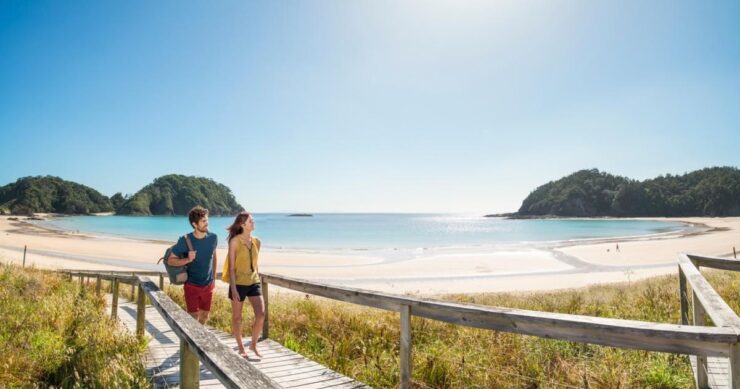 If you are traveling to New Zealand, the summer months can be considered the best for exploring the country's greenery and coastlines. For the ones who are willing to witness the cold environment or skiing destinations, visit the country in winters. Some of the best skiing places in the North and South are Mount Ruapehu and Mount Cook, respectively.
At the same time, autumn gives you a beautiful glimpse of colorful foliage and quiet temperature. Springs are not suitable enough for visitors as you will witness unstable days. Winters can be chilling in New Zealand, so don't forget to put the wind coat on. We have put together a list of the most amazing places that should visit as you explore this beautiful country.
Things You Can Not Miss Out
Glenorchy-Queenstown Road: An extremely beautiful village with snow-capped mountains, national parks, and lakes. Also, edged by a heritage site that adds to the beauty.
Wai-O-Tapu Thermal Wonderland: You will be in awe of this natural marvel. With active thermal activities, Wai-O-Tapu Thermal Wonderland will always be a hotspot for nature lovers.
Karekare Beach: A perfect destination if you love hanging out on a beach. Not only do you get to experience this amazing but there's a waterfall as well as a trail for cliff walking.
Auckland Museum: Experience the traditions and culture of the Maaori tribe in this museum. Along with that, the museum also showcases New Zealand's wartime history.
Redwoods, Whakarewarewa Forest: A unique and affordable where you can enjoy a tree walk and dive into one of the most popular NZ forests.
Nelson Classic Car Museum: If you consider yourself a motorhead then you cannot miss out on this amazing and trendy museum. A collection of rare and vintage cars that cannot find anywhere else.
McLaren Falls Park: After a hectic day, you can relax and take a walk with your loved ones in this serene park beside a lake. Even enjoy the picturesque view when the night sky lights up with hundreds of glow worms.
Plan A Budget
Plan your budget by tallying your home currency with New Zealand's currency. Make your mind and know that the prices you will be paying there would be higher than your nearby market even if your currency shows higher tender. Needless to say, you have to watch your funds, whether you are out for street shopping or hungry bites. Obviously, you will be willing to save money on food and manage your dining expenses very carefully. In fact, you can make your own meals if it suits you. Get an idea of food bills online by scrolling through Zomato or any such network. The nation is also famous for gambling because of its safety in operations. Travelers are mostly pragmatic and excited about the safe online casinos in New Zealand that are listed on VegasSlotsOnline. With a handy list of the safest online casinos that excel when it comes to the online safety of casino players, you can enjoy the games you like. Besides that, the online guide will help new players as they step into the world of online casinos. They offer multiple features and fill up the entertaining spaces of the visitors' diary.
A Mode of Transport Suiting your Itinerary
A very convenient mode of transport in the country is the facility of intercity buses on every road. If you are here to travel to islands, you can take a ferry that sails between Picton and Wellington multiple times a day. Before hiring a car or other transporting aid from these services or companies, think about whom to blame once you are done. Before taking a car, make sure you ask the rental company about its policies, restrictions, and other relevant stuff. Often, there are restrictions and procedures related to inter-island travel.
Hopefully, we do not witness such issues.
Conclusion
New Zealand is a country famous for its exquisite beauty and cultural offerings. If you are traveling to this green space filled with multiple caves, lakes, and adventurous opportunities, make sure you fill up your travel diary with some essential tips to enhance your travel experience and make the best of it. Visiting a place randomly without any planning doesn't make any sense. So, know the area, plan out your budget, make a list and proceed.