As we step into 2023, it's time to start thinking about the latest lingerie trends that are set to make a statement this year. From bold prints and bright colors to innovative designs and sustainable materials, the world of lingerie is always evolving, and there's never been a better time to experiment with new styles.
Whether you're looking to update your lingerie collection or simply curious about the latest trends, this list of the top 10 lingerie trends to try in 2023 is sure to inspire. And if you're looking for a place to shop for these trends, Empress Mimi is a great option with their diverse selection of high-quality lingerie pieces. So, get ready to elevate your lingerie game and explore the latest trends in the world of intimates.
Trend 1: Velvet lingerie
Velvet lingerie is a luxurious and indulgent trend that has been making waves in the fashion world. This trend involves using velvet fabric to create lingerie pieces that are soft to the touch and perfect for the winter season. Velvet lingerie comes in a range of styles and colors, from deep jewel tones to classic black and nude.
In terms of styles, velvet lingerie can include everything from bralettes, matching sets and bodysuits to teddies and robes. The plush texture of velvet adds a sense of richness and depth to these pieces, making them perfect for special occasions or for adding a touch of glamor to your everyday lingerie collection.
When it comes to colors, jewel tones like emerald green, sapphire blue, and ruby red are popular choices for velvet lingerie. These rich hues complement the plush texture of velvet, creating a luxurious look and feel. However, classic colors like black, white, and nude are also great options, as they allow the texture of the velvet to take center stage.
Notable features of velvet lingerie may include lace or mesh detailing, satin trim, or even embroidery. These added details can enhance the overall look and feel of the lingerie piece, adding an extra touch of elegance and sophistication.
Trend 2: Strappy details
Strappy details have become increasingly popular in lingerie design, adding a touch of edge and modernity to traditional styles. This trend features intricate strap designs, harnesses, and cutouts that highlight and accentuate different parts of the body.
Lingerie pieces that fit this trend include bras, panties, bodysuits, and even garter belts. Straps can be seen in different materials such as lace, satin, and mesh, while harnesses and cutouts are often made of leather or faux leather.
Colors for this trend are often bold and striking, with black, red, and even neon colors being popular choices. Notable features of this trend include unique strap designs, such as criss-crossing or caged designs, as well as cutouts that create geometric shapes or negative space.
Trend 3: High-waisted briefs
High-waisted briefs have made a big comeback in recent years and are becoming increasingly popular. This vintage-inspired lingerie trend is all about providing more coverage and creating a flattering silhouette.
High-waisted briefs come in a range of styles, including full-coverage briefs, Brazilian-cut briefs, and high-cut briefs. They can be made from a variety of materials, including lace, satin, and cotton. Some styles may also feature additional details like bows or ruffles.
High-waisted briefs are available in a range of colors, from classic black and white to bright, bold hues. Materials like lace and satin are popular choices for this trend, as they add a touch of elegance and femininity to the look.
High-waisted briefs are designed to sit at or above the natural waistline, creating a smooth and streamlined silhouette. They can also be paired with a matching bra or worn with a crop top or bralette for a more casual look.
Trend 4: Bright colors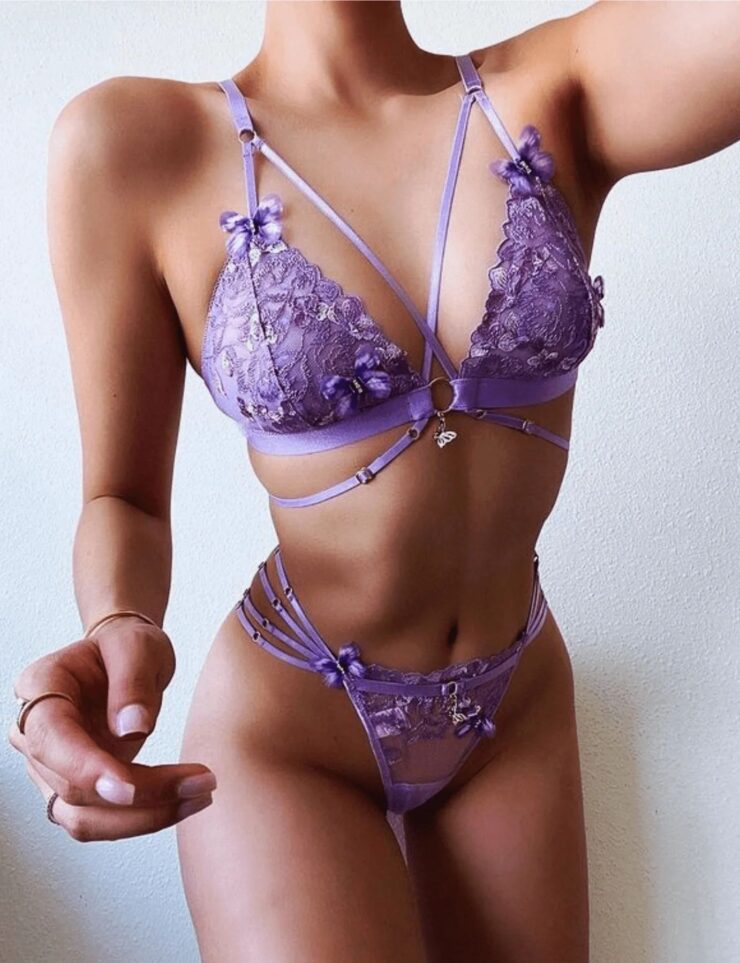 Bright colors are a trend that's here to stay. Gone are the days of just black, white, and nude lingerie. Bright, bold colors such as hot pink, electric blue, and fiery red are now making their way into lingerie collections. These bold hues can make a statement and add a pop of color to your lingerie drawer.
Types of lingerie that fit this trend include bra and panty sets, bodysuits, and even corsets. The materials used for these pieces are often soft and stretchy to ensure maximum comfort, and may include lace, mesh, or satin for a luxurious look and feel.
One notable feature of this trend is the use of contrasting colors and color-blocking. For example, a hot pink bra with electric blue straps or a fiery red corset with black lace detailing.
Trend 5: Embroidery and lace details
This lingerie trend is all about adding intricate detailing like embroidery and lace to create a romantic and elegant look. Lingerie designers are using these details in a variety of ways, from subtle accents to full-on designs.
Embroidery and lace details can be found in a wide variety of lingerie pieces, from bras and panties to bodysuits and teddies. They can be used to create delicate patterns or bold designs, depending on the style.
Embroidery and lace details are often paired with soft, delicate fabrics like silk and chiffon. They can be found in a range of colors, from classic black and white to pastels and jewel tones.
The intricate detailing of embroidery and lace adds texture and depth to lingerie pieces. These details can be found in a variety of styles, from dainty florals to bold geometric patterns.
Trend 6: Sustainable lingerie
With an increasing concern for the environment, many lingerie brands are incorporating sustainable practices into their manufacturing processes. This trend involves using materials that are more environmentally friendly, such as organic cotton, bamboo, recycled nylon, and natural dyes.
In addition to the use of eco-friendly materials, sustainable lingerie also involves ethical and fair-trade production methods that prioritize the well-being of workers and the environment. Some brands also offer recycling or repurposing programs for old lingerie, reducing waste and promoting circularity.
Trend 7: Bralettes
Bralettes have become a staple in lingerie trends for their comfortable and stylish designs. Unlike traditional bras, bralettes are typically soft and unstructured, providing a more relaxed and natural fit. They come in a range of colors and materials, from delicate lace to sporty mesh, and often feature unique detailing like strappy accents or cutouts.
Bralettes are perfect for layering under loose or low-cut tops, or for wearing on their own as a statement piece. They can also be worn as a comfortable alternative to traditional bras, providing support without the discomfort of underwires or padded cups.
Trend 8: Sheer fabrics
Sheer fabrics are a popular trend in lingerie that add a touch of seduction to any outfit. This trend involves using fabrics like mesh, tulle, and lace to create lingerie pieces that are delicate and transparent. Sheer lingerie can come in a range of styles, from bralettes and bodysuits to panties and garters.
The colors used in sheer lingerie pieces tend to be light and feminine, such as pastel pink, baby blue, and ivory. However, darker shades like black and burgundy can also be used to create a more dramatic look.
One notable feature of sheer lingerie is its intricate detailing. Embroidery, lace, and applique are often used to add texture and dimension to these pieces, making them stand out and accentuating the natural curves of the body.
Trend 9: Bodysuits
Bodysuits are a versatile piece of lingerie that have been gaining popularity in recent years. They can be worn as both lingerie and outerwear, making them a great addition to any wardrobe. Bodysuits come in a variety of styles, from lace and sheer to more modest and covered-up designs.
When it comes to colors and materials, bodysuits can range from basic cotton to luxurious silk and lace. Black is a classic color for bodysuits, but there are also many other options available, such as white, red, and even bright neon hues.
Notable features of bodysuits include thong or full-coverage bottoms, cutouts, plunging necklines, and sheer or lace panels. Some bodysuits also feature built-in bras for added support and lift.
Trend 10: Matching sets
Matching sets have always been a classic trend in lingerie, but they have seen a surge in popularity in recent years. This trend involves choosing a bra and panty set that complement each other, often featuring similar colors, patterns, or fabrics. Matching sets create a cohesive and polished look that is both stylish and sexy.
There are many types of matching sets available, from traditional lace sets to modern and sleek designs. The colors and materials used vary widely, but some popular options include delicate lace, soft satin, and comfortable cotton. Notable features may include intricate embroidery, unique cutouts, or strappy details.
Conclusion
In summary, the top 10 lingerie trends for 2023 are: velvet lingerie, strappy details, high-waisted briefs, bright colors, embroidery and lace details, sustainable lingerie, bralettes, sheer fabrics, bodysuits, and matching sets. Each trend offers a unique style and feel, from luxurious and edgy to eco-friendly and comfortable. We encourage readers to try out these trends and experiment with their own personal style. Don't be afraid to mix and match different trends to create your own unique look.