Elopement is sinking in the minds of most couples planning to get hitched. It is no longer a taboo word that is socially bereft from acceptance. One finds close family members to be part of the celebrations of small and close-knit events that represent downsized weddings also known as elopement weddings.
As per wedding experts the PerfectMoments, elopement weddings are getting as dreamy and adventurous as the imagination can go. Marrying under the stars, by the sea-facing cliff, or perched on a mountain range are now the new measures of candy-floss wedding that young couples are looking for.
Things to plan for elopement
If you or someone you know is planning an elopement wedding, then it is necessary to understand that it takes some deal of planning. In other words, all elopement weddings are not a spur of moment decisions taken without much forethought. Here are a few points you can keep in mind when planning one for yourself or friends:
It is not a movie or fairy tale story that you will share with your grandkids. Albeit it may be the case for a rare few. But the truth is that elopements are real. This means that however small, the planning has to be in place.
To keep it simple, precise instructions have to be followed. It means that the dress, invitation cards, decor, theme, location, guest list, food, and photographer have to be finalized way before.
An elopement wedding's primary feature is its flexibility. This means the budget is flexible, you can spend as much as you want. You can spend on things that matter more to you and represent the lives of the couple.
The location is not limited to a venue but can be any place. It can be your grandparent's house backyard, where you played as a kid and have fond memories.
People have married in the diner where they first met. The options are numerous and it is wise to choose something that is either close to you or a place that has a beautiful backdrop for some jaw-dropping elopement photography.
How to plan the shoot for an elopement wedding?
A picture tells a story and takes us back to the memories and feeling when the picture is taken. The images taken by a camera involving people are more than just portraits that are documented for the future.
Some feel it is not necessary to take too many pictures and that just a few clicks should do the magic. Nevertheless, it is important to note that a wedding day is an important milestone in a person's life.
A couple will always reflect on their marriage and would like to check the old albums and pictures to cherish their journey together. It will be a reminder of how far they have come together and how much they faced through the highs and lows of life.
But if one does not invest in hiring the right talent, then the photographs capturing the big day of life will be less than satisfactory. Care must be taken to make the entire experience of your wedding memorable. And photographs are an important part of a couple's best day.
Here are a few tips to enjoy the experience of getting married and being photographed for your elopement wedding:
1. Sign-up professional elopement photographer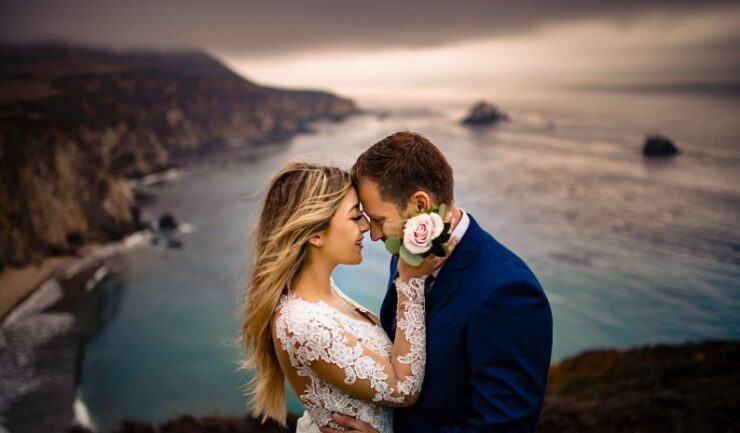 Elopement photography is a niche space within the wedding photography element. Few photographers have good skills and knacks but don't seek traveling assignments.
Others love working around a landscape but have a workflow process that may not be too flexible. But there are numerous options if planned and given scope and time to find the right fit.
Remember to book a photographer in advance as their dates are gobbled up pretty fast, and usually, their calendar is booked for a series of future months.
2. Experience matters
The whole experience of your elopement wedding shoot depends on two factors; how both of you feel as a couple during the shoot and how experienced and professional your photographer is. Even if you hire the best person in the game, unless both of you mentally are prepared to give your best for the photo shoot, nothing may seem right.
The efforts to take a perfect shot may seem frivolous and futile behind the scenes. But trust the person you hire to do the job, as they know what they are doing and perhaps cannot communicate the importance of every small instruction.
3. Prepare for the wedding shoot
Most elopement wedding photographs are shot in scenic locations that look perfect. But these are real places with rugged terrains and weather that changes without a warning. A perfect day may turn into a gloomy one with overcast skies before you know it. So prepare for the worst and hope for the best to happen. Even if it's a long beautiful gown, remember to hike in the right kind of footwear. If the place is known for gusty wind, wear a windcheater or jacket to protect yourself from the cold. It may turn out to be a long day with just you and your partner with the photographer team who will hike for the best spots. Always remember to carry some snacks in a carry bag to eat if you are tired and hungry.
Summing up:
Trusting your photographer and letting your hair down to create an epic experience are the best things a couple can do on their elopement. Even if the day is not perfect and does not go as planned, a couple has to remember to enjoy the company of each other and let the photographer capture the emotions and gestures that transpire between a couple.
Unless you remember to enjoy your day, let go of any built-up stress, and have fun, the best reflections that match your personality will not exude from the photographs. So always keep in mind to remain calm and composed and have fun on the day you are walking down the aisle.