Although Grant Gustin's childhood idol was Gene Kelly, it's Fred Astaire he reminds me of.
None of the Kelly brashness about him, but rather the gentle, suave sophistication we associate with the screen's greatest dancer.
In person Gustin, 27, is self effacing, courteous, and thoroughly captivating.
But if you want see an animated Gustin, check out his dance routine on Facebook.
No flash in the pan this Flash!
Come to think, isn't it ironic that of all the young talents that emerged from Glee, it's Gustin who's made the biggest impact?
His TV series The Flash is a huge hit and his fandom following at Comic-Con held in San Diego, California last month attested to that.
And the actor has a Malaysian connection, sort of. He is engaged to Andrea Thoma, who is of half-Kadazan descent.
Have you visited Malaysia, and what do you know about its culture?
I will start with the food. Trying new food usually scares me, but when it comes to the taste of Malaysian foods that I have had, I am into it. We are actually visiting Malaysia in December; going to meet a lot of the family over there.
How long have you and Andrea been together?
We have been together for a year-and-a-half. We fell in love pretty quickly, and we've been engaged since April.
So will there be a Malaysian wedding sometime soon?
We want to definitely do something in Malaysia, a ceremony of sorts there. But it will be before our wedding so it won't be the (real) wedding.
I have heard from other people that have been there and got engaged, that when you get engaged, it's almost like getting married. And it feels that way, mentally for me at least.
We have already started our life together; we have bought a home together, and we have fallen into the groove of things.
I have always been an old soul kind of dude and I always knew that I wanted to settle down although I was a little surprised that it just happened so suddenly. But I guess, at 27, it's who I am.
Was there anything about the Malaysian culture that surprised you?
I haven't been exposed to too much of it yet, but from what I have seen so far, they are very passionate about pop culture. I'll have more to say come December.
So, your fame basically started when you appeared on Glee?
Yeah that was my first on camera experience. Up until then I had done only theatre. But because I was really comfortable doing that for 15 years – singing and dancing – it made my transition to camera acting a lot easier, and the cast themselves were so nice and welcoming.
Were you surprised when you were cast in a superhero series?
Surprised, but excited. I've been a lifelong superhero fan. I'm a big Superman fan. Between the ages of four and five, I had Superman pyjamas that I don't think left my body very often.
So, just to have the opportunity to audition for this role was really exciting to me. I didn't really think I had a chance because I'm not your stereotypical superhero per se.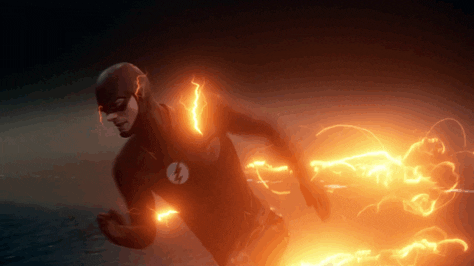 Did you have to bulk up for the role?
A little, before we did the pilot. But it's really hard for me to keep weight on, especially with the schedule that we're on. And the creators seem OK with that.
They actually embrace my body type and the leanness of me in the role. So, I'm not really changing my body too much.
I don't have to do what Stephen Amell does on Arrow, with his insane workouts and nutrition and regimen. I do stay active, but it's my busy film schedule that keeps me in shape.
I have a dance background, and I've always stayed physically active ever since I stopped dancing, which was four years ago so I haven't had to change my lifestyle as far as working out.
Speaking of Stephen, any dirt you can dish on him?
I don't have any dirt on Stephen, and even if I did, I would keep it to myself, because he would kick my a**.
But you get along?
Absolutely, but Stephen and I are really different guys. And I think it pays off when you see us together in character just because of the juxtapositioning.
But we have fun together and we connect on sports and his wife and my fiancée get along so we have a good time together.
You were a good athlete in high school. Did those track skills give you an edge in auditioning for The Flash?
Kind of yeah. I was fast in school. But I was really fast in elementary school; they actually called me Thunder Foot because I could run so fast. And that's no lie.
But as far as the running on the show, it's a combination of things. They'll put me on a treadmill in front of a green screen, hooked up to a harness, and I'll run and they'll blow wind on me and make it look like I'm going real fast. So, there's that.
Then, they take something like 16,000 pictures of my face and body so they could create a digital double of my body. So, it will be me running, but then it transitions to the digi-double.
And then we do basic tricks that are just really old school. Like, they'll put vinyl on the bottom of my boots and I'll be running and then slide into frame. They morph all that together to make it look like I'm the fastest man alive.
So, when did you get the acting bug?
I started tap dancing when I was eight years old because of Singing In The Rain. I'm a huge Gene Kelly and Donald O'Connor fan, because of that movie. And I watched it hundreds of times. And I would re-enact movies with my siblings (Gustin has an older brother and a younger sister).
I would put Grease on, and I would make my sister be Sandy and make my brother be Kenickie. As kids, we played make believe, but eventually I started doing theatre.
Then I went to The Governor's School for the Arts in Norfolk Virginia, for musical theatre.
My brother went to the tech department; he designed sets and costumes. We were all really supportive of each other, but I was the only one that just never stopped doing it.
I didn't see myself doing anything else. I was the one who got really serious about theatre, while they chose to be normal people (laughs).
Do you still dress up for Halloween?
Yeah. I pretty much always go as movie characters. This year, though, I want to get a cheap, like US$30 Flash costume. I'll wear it and then keep it for whatever other reasons I might need it.
Who were some of your past movie characters?
Last year I was Marty McFly. The year before that, I was Ferris Bueller.
With all the media attention how do you stay grounded?
I've always been really, really close to my family and my friends, and they keep me grounded.
I've always been a homebody. I'm working from 10 to 15 hours a day every single day. So, when I'm not working I want to sleep or work on my scripts or do absolutely nothing at all, which makes it pretty easy to stay grounded.
And you've avoided the temptations?
I don't really worry about that too much. I don't really think about that because I'm pretty secure with myself. I don't feel the urge to give into temptations. Even if I found myself surrounded by it, it's just not who I am.