If you plan on residing in the UK, it is ideal to learn that many ways exist to do that. The United Kingdom offers many ways individuals can achieve their dreams. There is a plethora of visas, permits, and documents created for you to achieve this depending on your circumstances. Today, we will focus on one of the classic visas in this department. If your goal is to work and reside in Great Britain attaining a Skilled Workers Visa is an ideal option you have. Is it an easy one? Let's see.
Trends in The United Kingdom Immigration
The last few years were different for all of us. On the back end of the COVID-19 pandemic things are finally getting back to normal. One could argue that the last time people weren't as interested in migrating to GB was during that brief closed-out coronavirus year. Putting that year and a half aside, the number of people seeking UK visas grew every year for the past ten years or so. Looking at the statistics of the past few years almost 70% of those applying are seeking a Skilled Workers Visa. What this means is that you're not the only one and that there are written rules that you must abide by to receive one. Let's see what this unique visa and its requirements are.
UK Skilled Workers Visa – What is It?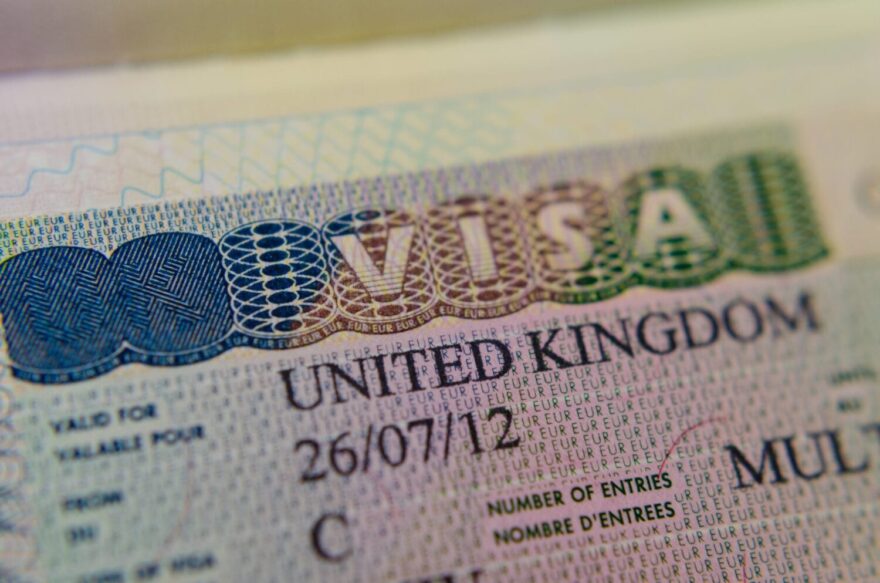 The answer is simple. It is a visa intended for workers. You are required to be skilled in your line of work and to receive employment by a company in the United Kingdom. The good part about this option is that more sides are willing to show a desire to aid you attain this visa – yourself and your company. Once you have it in your hands you can remain on the island for up to five years before there is a need for another application.
If you're living in the UK at the moment, you must apply in the first three weeks from the date your employment starts. If you're applying from the United Kingdom territory, you will be waiting for the answer for the same period. Depending on the circumstance of your employment and the country where you live, and the general cost of your applications the price for this particular visa varies from £610 to £1,408. The one exception to this price range is if you're a medical worker, a doctor, or a nurse. A Health and Care Worker visa should do your bidding in that case.
Workers Requirements
Who can apply? Another great question. You shouldn't worry too much about this as the majority of professions are covered. From bakers to architects, chefs, and hairdressers, everyone has the same rights.  Yes, some professions are not eligible and you can check that before you apply in order not to waste your time. For you to have an easy way out you need to have two things covered. The first one is that your line of work is eligible and the second one is that your employer has Home Office blessings for hiring overseas workers.
Language Requirements
If you're not well-versed in English your chances to receive any type of visa are slim to none. You must have at least the basics covered. When we say basic we are talking about passing an English language test. The secured one! To be able to work and live in the United Kingdom knowing the language is a basic requirement. Some states are exempt from this rule, and if you're coming from that country, well it's good to know it. In case you are not, the C1 knowledge is a necessity. When you apply for a visa your knowledge will be tested. We're talking about the PTE Academic UKVI test which will cover all aspects of the English language and your knowledge of the same. If you think this could pose you an issue maybe you should look for more details at https://imperiallegal.com/uk-skilled-worker-visa.
Basic Requirements
Even before you even consider an application for a Skilled Workers Visa you must know which are the basic requirements and are you fitting the bill. First of all, you are required to be of age, and being over 18 is the starting point. Beyond that scope, you must be free of charges, criminal ones, both in Great Britain and back home. A criminal record needs to be clean. Furthermore, your immigration record also needs to be clean. If you've been rejected for a visa before, it could pose an issue when you post an application for an SWV.
What's interesting is the requirement for everyone applying to be in perfect health. If you're carrying an illness or you're having a chronic issue it will be harder to attain this visa. For some countries, a base need is a negative tuberculosis test. As we already said above, having a good knowledge of the language is also a smut and that part will be thoroughly tested. Last and not least as we already pointed out, our skill needs to be recognized and needed on UK soil. If you're in the line of work that's not required or you do not have an employer waiting for you, your visa application is going to be denied.
How Long Can You Stay?
You can stay as long as your employer is contracting you. If your contract is for two years, you will receive a visa for that period if you cover all the requirements. In the case that you're hired on an unlimited basis you can stay up to five years. If your stay is shorter than five years you can re-apply on the basis of your new contract. If you've been in the country for five years you need to apply for Indefinite Leave to Remain. When you start working on ILR with time you will become eligible for citizenship.
Bottom Line
Moving to the UK on the back of a Skilled Workers Visa is a great way to do what you love and experience a new culture and earn in the process. If your goal was to live and work in the United Kingdom this visa should make it possible for you. So, get the documents ready and apply. What are you waiting for?