Everyone wants a luxurious vibe when it comes to their bathroom. The truth is that you may be struggling with its size, outlay, or color combo. If you have a tight budget and you can't afford a big remodel, or simply if you wish to make some small adjustments, keep on reading! Here, we're going to focus on some practical tips that can open up your bathroom and give it a luxurious and high-end feel in a matter of minutes! It all comes down to quick and easy touch-ups, accessories, and DIY projects.
How to Make Your Small Bathroom Look Luxurious in 9 Easy Steps
1. White aesthetic
The truth is that an all-white bathroom will open up any room. With simple white tiles, you're going to get that airy feel and make your space a lot more cohesive. White cabinets and countertops create the backdrop for a simple and elegant bathroom. If you pay close attention to white lines and you do a precise coloring job you're going to love the transformation. Make sure that you can do the upkeep and maintenance since white is an unforgiving color.
2. Bathroom mat
A dirty or worn-out bath mat will definitely ruin your aesthetic. Toss an old model out and invest in something new that is made out of a soft wool rug. By adding a durable, colorful, and stylish rug you can add so much vibrancy to your bathroom. Go for something that has bright and loud colors, as well as a pattern that suits your other accessories, such as your towels, boxes, soap dispensers, etc.
3. A stylish mirror
A lot of people don't want to invest in their mirrors, and they simply stick to the one that comes with the sink when being displayed at the store.
The truth is that by picking out a mirror with a little more personality, one can make an impressive transformation! Also, a funky mirror that is quite big will open up your space and give out an illusion of a bigger bathroom. Look for interesting shapes, antique or vintage detailing, or a grand size to add plenty of light.
4. Color scheme
If all-white is not your thing you can always play around with different colors and textures. The truth is that you don't have to choose a neutral color for your monochromatic scheme. Go for a light blue or teal color since these can look very relaxing. If you know how to do some color transformations and you're a fan of DIY projects stick to new colors or tiles and enjoy your new luxurious outcome.
5. A touch of brass
In 2023, a simple touch of brass and copper has been everywhere! The fact that it's not chrome (the most basic of finishes) instantly gives it a leg up on the average look. You can easily make this transformation by replacing your faucet, soap dish, mini jar, or a magnifying mirror. Anywhere where you see a possibility for a touch of brass – do it! Some mini new items and accessories won't be a hassle to place around or shop for.
6. Consider wallpaper
You can create a custom bathroom style with just a little wallpaper. Not too sure what is your preferred color combo, or do you think that tiles are too expensive? If that is the case just know that wallpapers will give out a glamorous outcome. Aim for them only if your ventilation is done the right way since you will need more air to make them work and this way they won't unglue down the line.
7. Invest in your lighting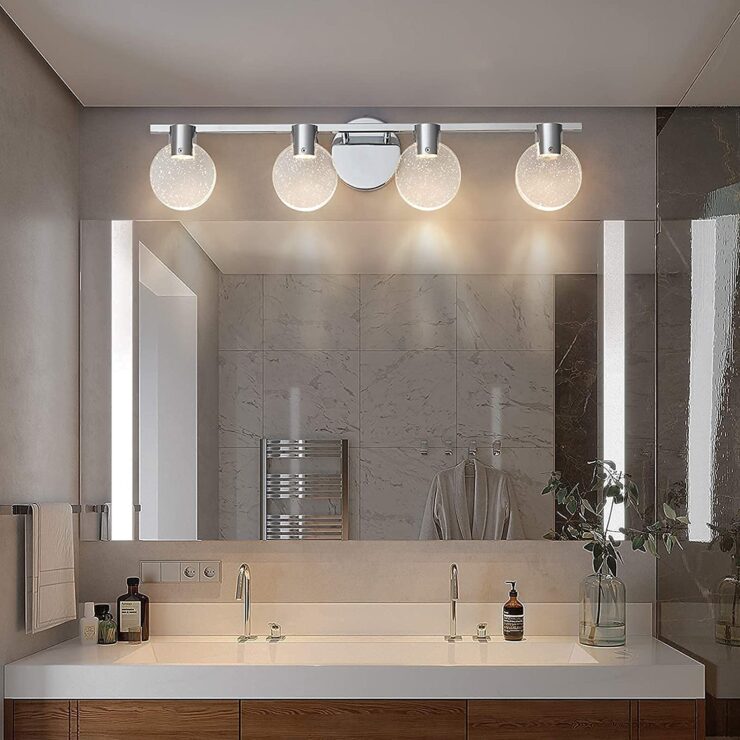 You might think that no one looks at your bathroom lighting since why lift your head up so high, right? Well, the right lighting set-up, system and the right ceiling light can dictate the mood of your bathroom and its overall vibe. Swap your builder-grade fixture for a chandelier over the tub or vanity to see your space transform in a matter of minutes! Something new, bright, and shiny will open up any room and leave people mesmerized.
8. More flowers & natural light
Flowers easily brighten up any room + they can impact our moods. If you add a vase to your bathroom and you add some fresh flowers once a week you're going to love the vibe and the calming aesthetic. The scent itself will also make you feel happy and cheerful! If you're lucky enough to have a ton of natural sunlight you will easily get that open concept while giving your flowers the lighting that they deserve. Don't forget to regularly water them as well.
9. New showerhead
Lastly, why not switch up the old-school showerhead that you've been dealing with for so long and get a new one? If your old showerhead is worn out or if it needs some sort of repair, it may be easier to get a new one instead of trying to fix it. For instance, rainfall showerheads have grown in popularity in recent years due to their design and how they seem to upgrade a shower instantly. These are not too pricey but will make everything a lot more clean and more luxurious!
PS: while you're at it you should also get a new shower curtain to round up the vibe!
How to upgrade your bathroom?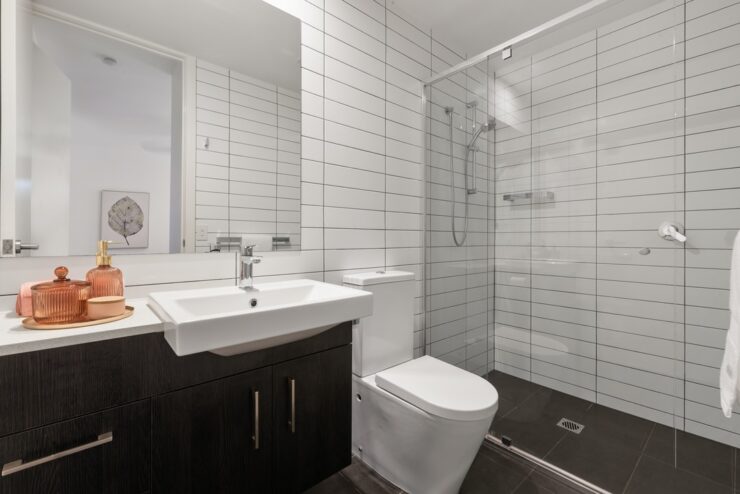 So, are you ready to make a change in your bathroom, and do you wish to do it on a budget? The truth is that you can shop online and find all you need even from the comfort of your home. In fact, on bedbathandbeyond.com.mx you can find a ton of different bathroom accessories and bathroom furniture that will suit everyone's personal preference. There are some chic bathroom mats, stylish wooden furniture, towels, curtains, watering cans, and bathroom organizers – perfect for families or singles who want to redecorate! Find an item that suits you and add style and elegance to your bathroom overnight at an affordable price.