The baby registry for to-be-moms is like a light lamp in the dark path. The expectant moms perhaps have no idea about baby essentials. Whether you're attending a baby shower for the first time or have already experienced it, here are a few super-cool last-minute baby shower gifts you shouldn't miss out on.
Although several gifts are available in the market, not all of them are worth buying for infants. For instance, you might think a pair of cute baby shoes is one of the best baby shower gifts you could ever give to expectant moms.
But wait. Does a newborn baby walk or run as soon as he pops out of the mother's womb? No, right? Then, why does he need a pair of baby shoes? Want to know the ultimate list of last-minute baby shower gift ideas?
In this article, you'll find multiple practical gifts that are highly beneficial for newborn babies. Also, read this post to unlock a few best baby boy gifts.
Let's get in.
7 Last-Minute Baby Shower Gift Ideas You Shouldn't Miss Out On
Let's dig out various gifts that every child needs. Some of these include wipes, muslin blankets, diapers, baby clothes(large), carrier, mommy hook, diaper pail, and more.
Baby Clothes
Baby clothes are one of the most popular gifts that expectant moms receive. Offer comfortable and soft onesies for newborns. Usually, most people buy clothes suitable for either 0 to 3 months or 3 to 6 months.
However, babies grow faster than you think. So, choosing a large size of clothes of 6 to 12 or 12 to 18 months is a wise option. Also, new moms receive several small size baby clothes.
Stand out from the rest by giving chic, large-sized baby clothes that the baby can wear even after a year. Buying a large-size long and short sleeves combo is an even better option. If you're wondering about pants, go for footed pants.
Bibs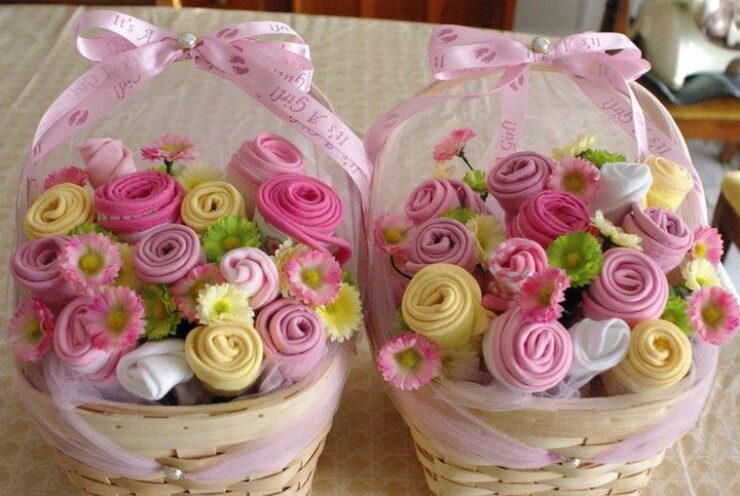 Bibs are another practical and useful baby shower gift for expectant moms. Like blankets and bodysuits, bibs are another essential item that infants need the most.
There are several types of bibs, such as drool bibs, feeding bibs, smock bibs, disposable bibs, and more. Choose the best ones based on your preferences. Also, silicone bibs are one of the best choices ever as they're easy to clean.
Diaper Pail
Most moms turn a blind eye to diaper pails. Yet, it's a lifesaver that prevents foul odor from coming from the diapers. Of course, trash cans can also be used to dispose of diapers. But the problem is they lack odor-controlling features.
Imagine the baby using at least 6 to 12 diapers per day. If you use trash cans, it accumulates and spreads a foul smell immediately. Yet, a single diaper pail is enough to tackle this issue effortlessly.
In addition, the high-quality diaper pail controls odor and prevents your pets from chewing or biting the diapers. So, offering a diaper pail at a baby shower is one of the best things.
Diapers & Wipes
Diapers & wipes are other most practical gifts for to-be-moms. Since every baby needs this right from birth, it's one of the most practical gifts you could ever give at a baby shower. However, the major issue with diapers and wipes is that a few babies might be allergic to them.
So, make sure you buy pure water wipes with 99.99% water and 0.1% fruit extract. Check whether the diapers you bought are manufactured from organic materials or hypoallergenic substances.
Although a few moms use cloth diapers, they appreciate disposable diapers and wipers due to environmental issues.
Mommy Hook
Mommy hook might become a favorite thing for new moms after using it a couple of times. These hooks are great when attached to strollers' handlebars. They carry lots of necessities.
While the mom's stroller storage is filled with colossal diapers or other essential stuff, mommy hooks can carry handbags, grocery bags, and more.
These hooks can also be hung on the shopping cart in your grocery store. Make sure you give a high-quality mommy hook made from robust and lightweight metals.
Ball
Yeah, the ball is also one of the best baby shower gifts you shouldn't ignore. Although it sounds like a boring gift, it's one of the fascinating things for infants.
Whether it's a baby girl or a boy, everyone loves playing with a ball. Usually, infants love the ball movement while rolling on the floor. Ensure the ball is lightweight, soft, and spongy so that the baby doesn't get hurt.
The ball with large holes is even great as they allow infants to hold it firmly. So, choose a colorful set of balls and present it to the expectant mom. The ball is one of the most lovely gifts for babies, and don't regret later not buying it.
Muslin Blankets
Muslin cloth can be used for various activities, from burping cloth to the general blanket. Usually, these clothes are highly breathable due to their light and porous texture. If the expectant mom lives in a warmer environment, she will love this gift.
Another cool feature of muslin cloth is its flexible fabric. Since the fabric is highly stretchable, it ensures utmost comfort and allows your baby to sleep for longer hours without a hitch.
The muslin cloth fabric gets softer and smoother than many other fabrics after every wash. So, it's even durable. Get this budget-friendly and most essential muslin blanket for baby showers.
Conclusion
Whether you're attending a baby shower for the first or tenth time, here're a few best gift ideas you should try. Some include diapers & wipers, mommy hooks, muslin blankets, baby clothes(large size), bibs, diaper pail, and balls or other baby toys.
These are not only economical-friendly but also one of the most practical gift ideas that every parent craves. So, make sure you choose any of the above gifts for a baby shower, from teeny-tiny balls to large muslin cloth to expensive diaper pail.