It is undeniable that TV has a huge impact on us. It also has a huge impact on how we live! For a long time, TV shows have started interior design movements or made them popular. These TV shows are the reason these interior designs were so famous!
Downton Abbey- British Edwardian
There is something about luxe, post-Edwardian homes that attract people, even today. However, after the airing of Downton Abbey, this style became increasingly famous, especially in the UK. The sprawling living rooms and the big chandeliers made a comeback and since then, we have not looked back! Vintage and antique pieces are still very much in, now more for sustainability than for the show's aesthetic. However, the show played a heavy hand in making the style accessible to a lot of people- it provided us with ideas of grandeur with everyday things- layered rugs, velvet chairs and gallery walls- all of which are, to date, thriving in the interior design industry.
Gossip Girl- City Girl Chic
We have all seen the New York girlies and their chic apartments. And we all want that! But ever wondered what brought about this style of interior design and made it so, well, accessible? It's Gossip Girl, of course! The show not only had a huge cultural impact on the fashion and tv industry but also on the interior design one! The city girl aesthetic, though modernized now, started with Blair and Serena's luxury bedrooms and houses. With the reboot of the show on the way, and an increase in Blair silk headbands this year, we are going to see more people adapt to the upper east style living rooms and bedrooms that are featured in the new-age classic. Gossip Girl also popularized the use of headboards. Lets not forget those plush headboards in Blairs room that look oh-so comfortable! You can often use headboards to make the room pop a bit more with color. Today, headboards that add character to your room are gaining importance and have become an essential part of the city girl chic!
Emily in Paris- Parisian Glam
Despite the, well, quite racist portrayal of the French, Emily in Paris has brought the Parisian chic and glam to the people around the world (who were able to sit through the show, that is.) The show, while terrible with its storyline and fashion, did a great job with its interiors! The French interiors, for a long, have been a classic and the show brought them forward again. It is hard to miss the lush mixture of textures and intricacy that make French living so, well, beautiful! There has already been a surge of linen and velvet sofas after the show, and it is predicted that this year is going to make Parisian chic and glam a staple in many homes- so you should grab that antique mirror before it sells out! And of course, do not forget to get your TV wall mounted (click here for TV wall mounting), it is the staple of Parisian homes. Parisian glam has also made its way into the already established interior design trends- like modern and contemporary. More design choices are revolving around getting wall mounds and gold trimmings around the space. The classic Paris style was already famous in the fashion industry- but the show has made it major in the interior design industry as well!
Bridgerton- Regency Core
With the hashtag regency core having over 35 million views on TikTok, it is no doubt that the lush flower-filled houses and soaring ceilings are a fan favorite. The interiors of Bridgerton have been influencing interior design trends ever since the first day the show was released! The vintage interior designs with the plush sofas and beautiful wallpaper are hard to not like and you do not need to be a period drama connoisseur to appreciate them. In fact, with regency core trends using vintage and older designed furniture, they are coinciding with the recent rise in sustainability in interior designing. This can be seen clearly with people preferring to buy second-hand upcycling older furnishings and indulging in the maximalist interior design styles. Bridgerton has played a big role in making vintage popular again! If you are on a budget but fancy this look, just find the thousands of videos under the hashtag #DIYregencycore to find easy and accessible ways of incorporating this aesthetic in your homes.
Friends- Boho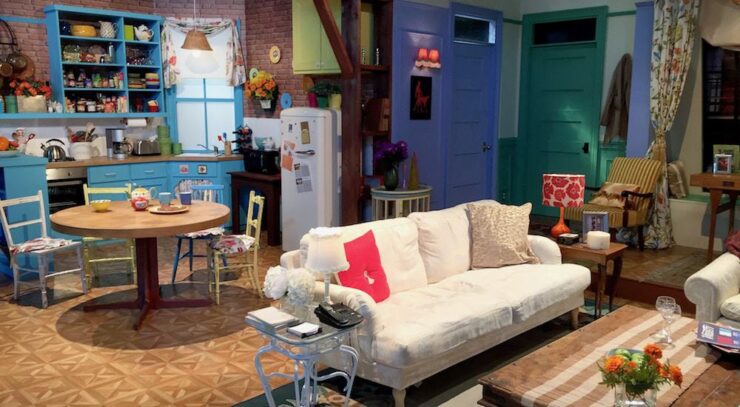 No one can deny that Friends has become a fan favourite in recent times. The show rose to fame again a few years ago and has inspired a lot of trends- in fashion, interior design and even tv shows. The 90s have made a modern comeback into our life- we can see it on the streets with bell bottoms and 90s blowouts everywhere! And let's not lie, we all want to live in Monica's house! The 90's boho style has become a huge inspiration for interior designers and can be seen gaining steady popularity. Oversized cups are back, and a shade of purple has been named the colour of the year in interiors- there is no denying that the TV show has made a huge cultural impact on this generation, and they are bringing it back! If you'd like to find out more ideas on Bohemian interior design, you can check out this article from Swiss Interior.
Sex and the City- Accessible Glamorous
Walking in closets became a thing after Carrie's walk-in closet and no one can deny it. When the movie first came out, it felt anything but accessible. However, walk-in closets are still an important thing today. Their houses were an extension of their character and have played a major role in making glam way more accessible to the masses! The progressive movies continued with their initial design ideology and the style has been echoing in our houses ever since! These design styles include big mirrors, lots of pillows and throws as well as bold furniture choices (think: Monica's orange couch in Friends.) Recently, soft curves are making a statement in glam styles so if you are looking for a modernized accessible glamour, choose more rounded and curved furnishings and décor pieces. Also, remember to include the color that signifies glam- Gold!