Though printers are really affordable, not many people choose to invest in such devices. And this is understandable, since not everyone has a need to print something every day. Investing in a machine that will only be used occasionally is not the best idea, especially, if many other options are available.
For those who rarely print documents, there are more convenient and cost-effective options that do not take up space on the desk. Keep reading if you want to know how to print without a printer or how to send a fax from your cell phone. If your main question is "What are places I can send a fax from?" – it will be answered.
1. Printing files with FedEx or UPS
That's right – you can use FedEx or other shipping providers to print anything you want. This is a perfect option for busy people, because printed documents can be delivered directly to your home. However, keep in mind that in such a case, this service will not be cheap. Still, it's better than buying a printer that you'll use twice a year, right?
How do you print with FedEx exactly? Just submit your files online to FedEx using Dropbox or Google Drive and get your documents printed. This option, however, may not be the best for documents that contain sensitive data. As you understand, the printing process involves emailing your files to the mentioned companies. An employee who is responsible for opening and printing the document would have access to the information.
2. Wireless Printing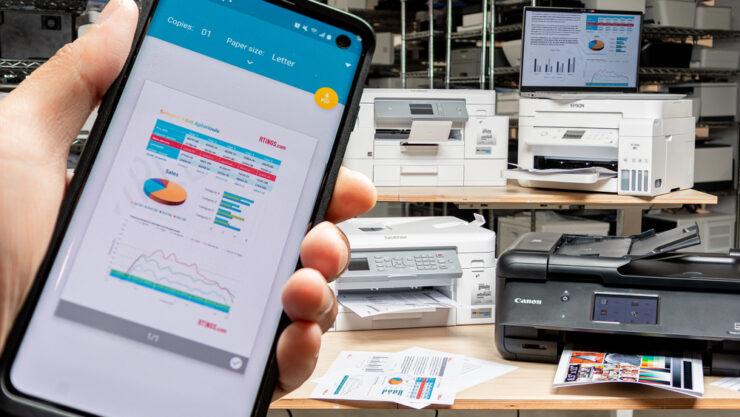 In case you're wondering, "Where can I print something for free", here's a good idea. Think if you know someone who lives near you and has a printer – that's a go-to. This option has multiple benefits: it will be fast, safe, and free. All you have to do is ask permission to use the printing device.
If you have Windows on your computer, go to Devices settings, select Printers and scanners, and then Add a printer or scanner.  You will see available printers nearby – select the device and print.
3. Print from the office, public library or the office supply store
Almost all workplaces have at least one printer. Printing a few pages using corporate devices should not be a big deal. Of course, it's better to ask permission from your supervisor before printing anything not related to work. Don't take the "ask forgiveness rather than permission" approach. Keep in mind that many corporate printers are strictly monitored to make sure they are used appropriately.
Another place that usually offers printing or scanning services is the library. Almost every library has computers, printers, and scanners. It's a really cheap and safe option. Sometimes it can be done for free. If you're a student, your college library will surely provide such services. Some educational institutions have a public printing solution like ePRINT it that enables users to print from any web-enabled device.
Office supply stores are also a great option when you need a document printed. You will find such stores as Office Depot, OfficeMax or Staples printing email on-the-spot at a low cost. There's an option to send your documents online and pick hard copies from the store.
Some grocery stores, pharmacies or drug stores may have a printer and might be able to help you. If your matter is urgent, and you can't find copy & print shops or libraries nearby, try those. Usually it's really cheap and fast.
4. Print from the hotel or hostel
How to print without a printer when you're traveling and need your boarding passes or booking confirmations in paper format? Travelers who need their documents printed can ask for such services at the front desk. Many hotels and hostels provide public printer services for guests.
If all of the above options aren't available to you or simply don't suit you, here's the tool that will definitely cover all your needs.
5. Print and FAX from iPhone: Fax App
If your main problem is "I need places I can send a fax from", there's a simple solution. We highly recommend trying Fax App, which allows you to complete many tasks in just a few minutes. It's a must-have if you use fax in your day-to-day tasks. The app uses IP to send and receive faxes, it doesn't require telephone networks.
This tool is reliable and easy to use. It has a built-in scanner and allows you to process various types of documents, be it receipts, ID cards, certificates, books, notes, letters, photographs, etc. You can edit these documents right in the application.
Fax App also provides a very useful function of adding an electronic signature and the ability to track sent and received faxes. Failed faxes can always be identified. It's also possible to download any fax in JPEG, PDF, or PNG format. Moreover, you can protect your files with pin-code.
How to send a fax from your cell phone? It's never been easier – just download this useful tool and forget about outdated technology like the old fax machines. Fax App is a perfect alternative for you. With this tool, sending a fax from your device will only take a couple of minutes. Just select the document you need to send and provide a local fax number. Get the application and fax from the iPhone fast and hassle-free!
With the advanced Fax App technology, faxing is available anywhere, anytime, even in the middle of the night. The tool is really user-friendly and straightforward, so both companies and individuals will benefit from it. The reviews from satisfied users prove that this app is worthy.
You have now discovered great methods that allow you to print documents and fax without owning a special device! And last but not least: before printing anything, ask yourself if you really need a hard copy. It may not be compulsory everywhere. Oftentimes companies accept electronically signed documents, digital passes and so on. We live in times when technology allows us to minimize paperwork and save resources. Always check first if a digital version is sufficient.