A new study published this week in the British Dental Journal, suggests that cognitive behavioural therapy could be effective in overcoming fear when it comes to visiting to the dentist.
Dental anxiety is a common problem, and although its level can vary, it is classed as a phobia when it starts to have a negative impact on general well-being.
A dental phobia can have far-reaching implications, with sufferers not only experiencing the unpleasant feelings of stress and fear associated with the dentist, but possibly avoiding the dentist altogether because of it. This can lead to dental pain, poorer oral health, and a reduction in overall quality of life.
To look at the effects that Cognitive behavioral therapy CBT might have in reducing dental anxiety, a team of researchers from the King's College London Dental Institute looked at a group of 130 patients attending psychologist-led CBT sessions, who were all assessed as suffering from some level of dental anxiety or dental phobia.
CBT is described as 'talking therapy' by the British Association for Behavioural and Cognitive Psychotherapies, and aims to alter a patient's thinking pattern and in turn their behaviour. It is usually a short term course of just 6-10 sessions, and has been shown to be effective in treating many psychological problems including depression and other anxiety disorders.
Three-quarters of the group were assessed as suffering from extreme dental anxiety or phobia, with the rest suffering from a specific fear of some aspect of dentistry, with fear of dental injections and the drill most common. Nearly every patient (94%) reported that their anxiety impacted on their everyday quality of life due to problems with their teeth, mouth, or gums, as a result of their fear of the dentist.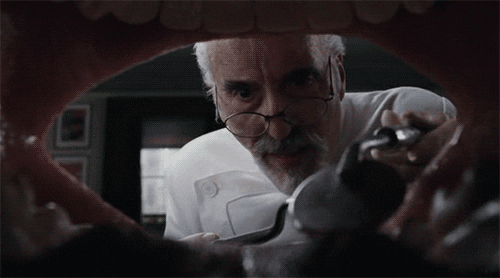 After attending on average a course of five CBT sessions, 79% of patients went on to have their dental treatment without sedation, and 6% had their dental treatment under sedation.
Commenting on the results, Professor Tim Newton from the Dental Institute at King's College London and lead author of the study said, "People with dental phobia are most commonly given sedation to allow them to become relaxed enough for a short period of time to have their dental treatment performed. However this does not help them to overcome their fear in the long term. The primary goal of our CBT service is to enable patients to receive dental treatment without the need for sedation, by working with each individual patient to set goals according to their priorities. Our study shows that after on average five CBT sessions, most people can go on to be treated by the dentist without the need to be sedated."
Another approach that has been suggested as a potential means of dealing with dental phobia is acupuncture. A small 2010 study published in the journal Acupuncture in Medicine showed that in a group of 21 case reports submitted by dentists, patients that received five minutes of acupuncture before their dental treatment showed a significant reduction in anxiety levels.
The team behind the research suggest acupuncture as an inexpensive and simple method of treatment for dental anxiety, but also acknowledge that more and larger studies need to be carried out to test the effectiveness of acupuncture further. – AFP Relaxnews