Here is a sneak peek at some of the biggest changes and innovations we are likely to see in the online casino industry over the coming decade.
The main things we can expect over the coming years are faster and more secure ways to pay, blockchain technology and cryptocurrencies becoming a big part of gaming in certain major jurisdictions worldwide, and much more.
Take a closer look right here.
What can online casinos look forward to over the next ten years?
Over the next ten years, the online casino gambling industry will likely change in several ways. Some changes will undoubtedly happen, and others we cannot yet see or anticipate.
Some of the most likely changes we can expect to see will be in the following areas:
Faster payment methods, more payment methods, and blockchain technology will likely become more prevalent
Gambling laws may change, and possibly more countries will open up to legalising online gambling and regulating it better
Improved software, which means a smoother experience for the player
Bigger progressive jackpots as more people play the same games and contribute towards the pots
Much better games, thanks to improving technology, plus a lot more games to look forward to
Exciting new in-play features and bonus games to look forward to in slots, roulette, and other games
Better smartphone and smartwatch casinos/games
An improved live dealer casino experience
5G casinos with zero latency, buffering, lagging, or stickiness, which means never getting disconnected mid-way through placing a bet ever again
Significant growth in revenue for the online gambling industry as a whole
Many new online casinos will start popping up
Improved 'safer gambling tools,' laws and regulations to protect both the players and the operators
These are just some of the main areas where tahe biggest changes will most likely occur. Plus, there will also be many other unforeseeable changes that will also have a huge effect on the online casino industry.
Global Market Expansion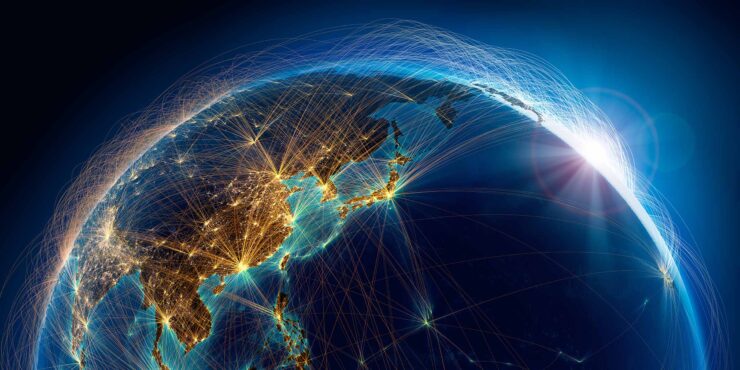 The online gambling industry has experienced remarkable growth in recent years, and this trend is expected to continue in the next decade. The global market expansion of online casinos presents significant opportunities and challenges for industry players.
Growth of the online gambling market in different regions: The demand for online gambling is increasing across various regions worldwide. Traditional gambling markets like Europe and North America continue to thrive, while emerging markets in Asia, Latin America, and Africa are witnessing rapid growth. Online casinos are tapping into these markets by offering localized platforms and services tailored to the specific needs and preferences of the target audience.
Penetration of online casinos in emerging markets: Emerging markets offer immense growth potential for online casinos. As internet accessibility and smartphone usage continue to rise in these regions, more people are gaining access to online gambling platforms. Market players are actively expanding their operations and forming partnerships to enter these markets and establish a strong presence.
Localization of online gambling platforms and services: To succeed in diverse global markets, online casinos are increasingly adopting localization strategies. This involves tailoring the user experience, language options, payment methods, and game offerings to suit the cultural and regulatory preferences of specific regions. By providing a localized experience, online casinos can attract and retain a larger customer base.
Will online casino bonuses improve too?
It looks as though the traditional online casino bonuses, such as matching deposit bonuses, free spins bonuses, no deposit bonuses, and online casino cashback bonuses, are well and truly here to stay. Therefore, it's safe to say that these types of generous bonus offers will always be here for players.
We could see these bonuses becoming more lucrative with more bonus money being given to players and much lower wagering requirements being attached to bonuses.
You never know; we may even see entirely new bonuses being offered to players over the coming years that will completely mix things up.
Will the same popular online casinos still be here in ten years?
That's a good question. Online casinos come and go. Only the best ones last. Some online casinos have been around for more than ten years and are still going strong today.
In other words, it's likely that these same trusted online casinos, such as Mr Green Casino, BetVictor Casino, bet365 Casino, and LeoVegas Casino, will, to name a few, still be operating in ten years.
What other top-rated online casinos should stand the test of time?
It's also likely that the following highly recommended online casinos will also still be here in ten years' time:
PlayFrank Casino
Energy Casino
Trada Casino
Hello Casino
888 Casino
PlayOJO Casino
Slots Magic Casino
Virgin Games
10Bet Casino
Casumo Casino
You can learn more about each of these casinos by visiting the official AskGamblers.com website – one of the world's most trusted online casino review sites. The website has over 1,700 online casino and sports betting site reviews for today's most trusted sites.
They are all free to sign up to, and they are powered by some of the industry's most notable providers, such as Evolution Gaming, Playtech, Games Global, NetEnt, Pragmatic Play, Blueprint Gaming, Play'n GO, and Red Tiger Gaming.
Final note
While it's hard to say exactly what will happen in one month's time, let alone ten years' time, it is fairly safe to say that the online casino industry will continue to flourish around the world as more and more people look to place a quick wager on their favourite game.
Mobile casinos have made online casinos even more convenient and accessible than ever before, and it looks as though the trend is set to continue.
Finally, if you sign up to any of these fully licensed online casinos mentioned above, remember to gamble responsibly, set deposit limits, don't chase your losses, and never spend more money than you can afford to lose. Gambling is supposed to be fun and shouldn't ever be treated as a way to make a living.