Who is FunnyMike?
MacArthur Johnson, commonly known by his stage name, FunnyMike is a popular rapper, singer, record producer, and social media star.
Mac has got other stage names too like 22Savage, Young22, and Mikey Mike.
He's also a famous YouTuber and comedian. On YouTube, he's famous for his songs, music videos, and vines.
Similarly, he has a huge fan base on other social media platforms such as Instagram, Twitter, and TikTok.
On Instagram, he has over 7.5 million followers, and likewise, on TikTok, he has over 2.9 million followers, as of 2023.
Talking about his YouTube channel, he currently has over 6.73 million subscribers.
Today, we will be talking about FunnyMike's career, family, relationship, net worth, and even more.
Let's dig in!!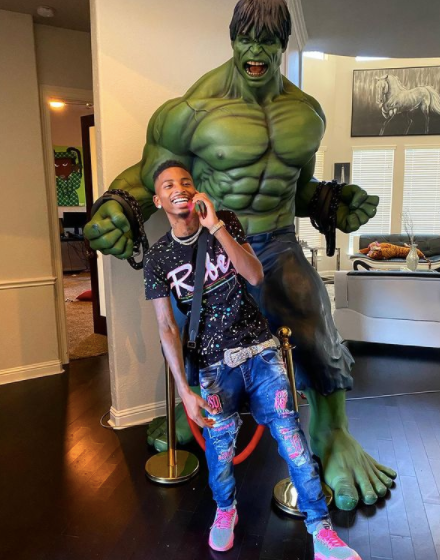 Quick Biography
| | |
| --- | --- |
| Real Name | MacArthur Johnson |
| Nick Name | FunnyMike |
| Gender | Male |
| Date of Birth | October 8, 1996 |
| Birth Place | Baton Rouge, Louisana |
| Age | 24 years old |
| Birth Sign | Libra |
| Nationality | American |
| Ethnicity | Black |
| Religion | N/A |
| Profession | Comedian |
| Height (approx.) | 5'11 or 181 cm |
| Weight (approx.) | 70kg or 154 pounds |
| Hair Color | Black |
| Eye Color | Black |
| Father | N/A |
| Mother | N/A |
| Sibling | Wings |
| Spouse | None |
| Children | Londyn, MacArthur Johnson Jr. |
| Net Worth | $3 million |
| Profiles | @funnymikeinstagram, @funnymiketiktok |
FunnyMike Early Life
Where was FunnyMike born? FunnyMike was born in Baton, Rouge, Louisiana.
Regarding his educational background, Mike was expelled from DeKalb County School when he was in grade 7.
After that, he went to Tara High School and graduated from there.
Since his childhood, Mike was into comedy and used to make funny jokes around his friends.
Let's know about the beginning of Mike's career and his achievements so far.
FunnyMike Career
Why is FunnyMike famous? 
Comedian
FunnyMike started as a Comedian and used to make videos on Vine.
Then, in 2016, he created his self-titled YouTube channel and started making videos there.
He made many funny skits such as the impression of celebrities, short skits, etc.
As of 2023, his channel has amassed over 6.73 million subscribers and a total of over 1.4 billion views on his videos.
His first video titled I am Smashing Your Girl on Runk which was uploaded in August 2017 got viral and millions of views rapidly.
He is famous for his various contents such as challenges, pranks, funny skits, vlogs, etc.
Mike also has another shared channel with his former girlfriend and his children's mom Jaliyah where they used to post daily life vlogs, challenges, and prank videos.
The channel is named MJ Family and has over 3.23 million subscribers as of 2023.
Rapper
Along with his comedian career, Mike is an aspiring rapper.
He gave himself the stage name 22 Savage as a rapper after 21 Savage became one of the most famous rappers.
Soon, he released the album "Savage Mode" in 2016. The same year, he released other collections like Nothing 2 Live 4, Pay 4 it, hit that 22, etc.
His first single is No Heart which was released in August of 2016, was a big hit.
Likewise, his other single Jumpin was a commercial hit and is one of his biggest hits.
The song got him all the fame and recognition he wished for as a rapper.
In February 2017, he changed his name to Young 22 to bring originality to his career.
Other
Besides comedy and rapping, Mike is a famous social media personality too.
He has a huge fan following over Instagram, TikTok, and Twitter. Over 7.5 million people follow him on Instagram.
Mike's quite active on Instagram and posts photos as well as videos of funny skits and his daily life-related.
Well, on TikTok he has over 2.9 million followers who love his funny videos and lipsyncing videos.
Personal Information
What is the height of FunnyMike? FunnyMike stands at a height of 5 feet 11 inches or 181 cm and weighs about 70kg or 154 pounds.
His Zodiac sign is Libra. He has black hair and black colored eyes.
Regarding his ethnicity, he's black and American as for his nationality.
There's no information about the religion he follows. Mike loves to spend his time with his kids.
Talking about his hobbies, he likes to read books, click photographs, make vlogs, etc.
FunnyMike Relationship
Who is FunnyMike dating? FunnyMike is currently single and not dating anyone.
He was in a relationship with his long-time girlfriend and fiancee Jaliyah who is an Instagram model and social media personality.
Mike has also featured Jaliyah's brother Jslutty who is a famous social media influencer on his channel.
The two have a daughter named Londyn and a son whose name is still unknown together.
As of 2023, they are rumored to break up as there are no updates about them together.
Also, they have unfollowed each other and Mike doesn't seem to appear in recent MJ Family vlogs.
There were rumors that Mike allegedly cheated on Jaliyah with Cameron, who is also a YouTube Star.
FunnyMike Family
Who are the parents of FunnyMike? FunnyMike has not revealed anything about his parents.
However, he posted about the death of his father on Instagram and made a video about the funeral on YouTube.
There are rumors that his dad was the person who died in Baton Rouge shooting in 2019.
But neither the family of Mike nor the police has confirmed it.
He grew up with his half-brother Wings who is also a comedian and rapper by profession.
Controversy
What are the controversies Mike got into? 
In 2017, Mike was arrested for the murder of a man named Richard Phillips in the name of self-defense.
Mike first got into a conflict with the man along with his two companions and deliberately shot him in the chest.
He was charged with a $370K fine for keeping illegal weapons and using them.
Also in 2017, FunnyMike aka Young22 got into controversy for his song "Kylie's Daddy".
It caught him under fire as the song contained the lyrics about his hunger and lust for the body of Kylie, a renowned social media personality and businesswoman.
FunnyMike Net Worth
What is the net worth of FunnyMike? FunnyMike earns from his comedian as well as rapper career.
He earns the majority of his income from YouTube videos, songs, social media sponsorships, brand endorsements.
Mike has lots of fortune such as money, cars, houses, jewelry, etc.
As of 2023, his net worth is estimated to be $3 million approximately.
Let's know some of the unknown facts about FunnyMike.
FunnyMike Trivia
FunnyMike was born in Baton, Rouge, Louisiana.
His real name is MacArthur Johnson.
Other than FunnyMike, his stage names are Savage 22, Young 22, and Mikey Mike.
Besides being a famous comedian, he's a well-known rapper too.
As of 2023, he currently has over 6.73 million subscribers on his YouTube channel.
His net worth is estimated to be $3 million approximately as of 2023.
Video
Check out the recent video of FunnyMike from his YouTube channel down below:
Image Credit: @funnymike Instagram