The force is certainly with the latest Star Wars instalment which is leading the 2016 MTV Movie Awards with 11 nominations.
Star Wars: The Force Awakens' main star Daisy Ridley alone earned four of nods – Best Female Performance, Breakthrough Performance, Best Hero and Best Fight (shared with Adam Driver) for her portrayal of Rey. Driver, who played Kylo Ren, also nabbed a nomination for Best Villain.
The seventh film in the Star Wars film series also got a Movie Of The Year nod along with Avengers: Age Of Ultron, Creed, Deadpool, Jurassic World and Straight Outta Compton.
Among the other frontrunners are Deadpool which scored eight nominations while Avengers: Age Of Ultron scored six.
"What has always been so cool about the MTV Movie Awards is that it's about blockbuster movies that audiences line up to see; comedies, superheroes, science fiction, fantasy, action," says its executive producer Casey Patterson in a press statement.
"This show is about fandom and the stars come out to celebrate that. The nominees and the content are naturally diverse and eclectic because we're a true reflection of real movie-going audience."
The awards show will be hosted by movie star Dwayne Johnson and comedian Kevin Hart.
"It's an honour to be hosting the MTV Movie Awards with a guy who's not only one of the funniest guys on the planet, but who's often mistaken as my twin, Kevin Hart," says Johnson. "We live for our fans and promise to make this an epic, historic unforgettable night for them."
The awards show, which turns 25 this year, will be taped at the Warner Bros Studios in Burbank, California on April 9. It will air in Malaysia on April 11 at 9pm on MTV (Astro Ch 713).
"I love hosting – it's my thing," says Hart. "Dwayne and I are the perfect team for the epic 25th anniversary show. It's going to go down."
Two new categories True Story and Documentary have been introduced to this year's edition.
Check out the full list of nominees below:
Movie Of The Year
Avengers: Age Of Ultron
Creed
Deadpool
Jurassic World
Star Wars: The Force Awakens
Straight Outta Compton
True Story
Concussion
Joy
Steve Jobs
Straight Outta Compton
The Big Short
The Revenant
Documentary
Amy
Cartel Land
He Named Me Malala
The Hunting Ground
The Wolfpack
What Happened, Miss Simone?
Best Female Perfromance
Alicia Vikander – Ex Machina
Anna Kendrick – Pitch Perfect 2
Charlize Theron – Mad Max: Fury Road
Daisy Ridley – Star Wars: The Force Awakens
Jennifer Lawrence – Joy
Morena Baccarin – Deadpool
Best Male Performance
Chris Pratt – Jurassic World
Leonardo DiCaprio – The Revenant
Matt Damon – The Martian
Michael B. Jordan – Creed
Ryan Reynolds – Deadpool
Will Smith – Concussion
Breakthrough Performance
Amy Schumer – Trainwreck
Brie Larson – Room
Daisy Ridley – Star Wars: The Force Awakens
Dakota Johnson – Fifty Shades Of Grey
John Boyega – Star Wars: The Force Awakens
O'Shea Jackson Jr – Straight Outta Compton
Best Comedic Performance
Amy Schumer – Trainwreck
Kevin Hart – Ride Along 2
Melissa McCarthy – Spy
Rebel Wilson – Pitch Perfect 2
Ryan Reynolds – Deadpool
Will Ferrell – Get Hard
Best Action Performance
Chris Pratt – Jurassic World
Dwayne Johnson – San Andreas
Jennifer Lawrence – The Hunger Games: Mockingjay – Part 2
John Boyega – Star Wars: The Force Awakens
Ryan Reynolds – Deadpool
Vin Diesel – Furious 7
Best Hero
Charlize Theron – Mad Max: Fury Road
Chris Evans – Avengers: Age Of Ultron
Daisy Ridley – Star Wars: The Force Awakens
Dwayne Johnson – San Andreas
Jennifer Lawrence – The Hunger Games: Mockingjay – Part 2
Paul Rudd – Ant-Man
Best Villain
Adam Driver – Star Wars: The Force Awakens
Ed Skrein – Deadpool
Hugh Keays-Byrne – Mad Max: Fury Road
James Spader – Avengers: Age Of Ultron
Samuel L. Jackson – Kingsman: The Secret Service
Tom Hardy – The Revenant
Best Virtual Performance
Amy Poehler – Inside Out
Andy Serkis – Star Wars: The Force Awakens
Jack Black – Kung Fu Panda 3
James Spader – Avengers: Age Of Ultron
Lupita Nyong'o – Star Wars: The Force Awakens
Seth MacFarlane – Ted 2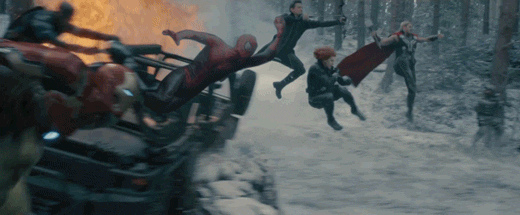 Ensemble Cast
Avengers: Age Of Ultron
Furious 7
Pitch Perfect 2
Star Wars: The Force Awakens
The Hunger Games: Mockingjay – Part 2
Trainwreck
Best Kiss
Amy Schumer & Bill Hader – Trainwreck
Dakota Johnson & Jamie Dornan – Fifty Shades Of Grey
Leslie Mann & Chris Hemsworth – Vacation
Margot Robbie & Will Smith – Focus
Morena Baccarin & Ryan Reynolds – Deadpool
Rebel Wilson & Adam DeVine – Pitch Perfect 2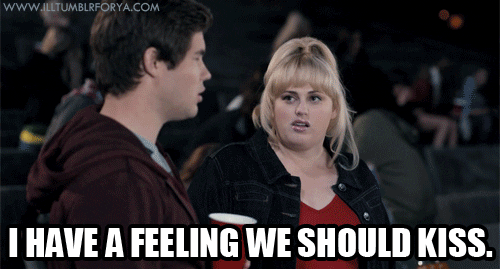 Best Fight
Deadpool (Ryan Reynolds) vs. Ajax (Ed Skrein) – Deadpool
Hugh Glass (Leonardo DiCaprio) vs. The Bear – The Revenant
Imperator Furiosa (Charlize Theron) vs. Max Rockatansky (Tom Hardy) – Mad Max: Fury Road
Iron Man (Robert Downey Jr.) vs. Hulk (Mark Ruffalo) – Avengers: Age Of Ultron
Rey (Daisy Ridley) vs. Kylo Ren (Adam Driver) – Star Wars: The Force Awakens
Susan Cooper (Melissa McCarthy) vs. Lia (Nargis Fakhri) – Spy