Every business owner wants to see positive results from his work. In order to make your company grow, you need to focus on the online marketing strategy. If you are not a professional marketer, it can be a challenging task. Please continue to read the detailed guide on the most efficient online marketing solutions to make your life easier.
These new skills will help you grow as a specialist and make sure that your company follows the most recent trends. Additionally, you can always ask for professional advice or help from an internet marketing consultant at NIX United, one of the top online marketing agencies for small companies and big enterprises.
Digital Marketing Solutions: Detailed Guide
Are you ready to get some inspiration? Here are the top 5 online marketing samples to boost your campaign!
Google Analytics
It is simply impossible to manage an online marketing campaign without Google Analytics. This must-have tool provides insight into the performance of your corporate site. You can clearly see how your target audience behaves and how the presented site's features function. Google Analytics is a 100% free tool, so you should absolutely master it! It gives you access to many customization features, such as creating segments for narrowing the view of your audience's behavior in the niche market. You can make dashboards for easy highlighting of essential data related to your business and marketing campaign. It is possible to link your brand ads via Google Ads. You will not find a better tool for reviewing your marketing campaign performance.
Google Search Console
If you do not have a big budget for your online marketing campaign, but you have high ambitions to make your business grow, check out another free solution called Google Search Console. You should create a business account on this platform in order to revolutionize your marketing campaign. Thanks to this solution you can access information about your corporate site, media content, and SEO efforts. As soon as there is a problem with your website, you will get notifications. It is a tool to create a user-friendly and effective site for your clients, team members, and partners. Do not worry about the technical side of this solution, as every user gets access to a setup guide free of charge!
Ahrefs
Ahrefs is an official partner of Google Search Console and Google Analytics. You must try this trustworthy online marketing solution in order to get information about the performance of your own site and your competitors' ones. Note that Ahrefs asks for a paid subscription to get access to the key features. The company gives you a chance to try the service for a week for 7 USD. You can be sure that this investment is worthwhile. It allows you to track all the keywords that have the highest ranking in online search results. It is efficient for comparing your website/blog with competitors. It will send you alerts when your site earns/loses some links. If you want to focus on SEO and boost your business competitiveness, Ahrefs is a must-have tool.
FAQ Fox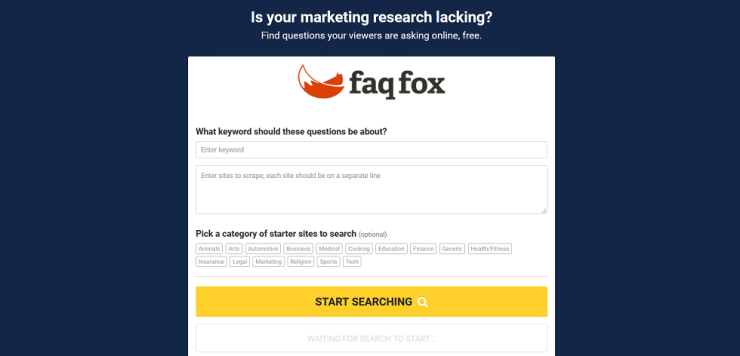 FAQ Fox is another worth-trying online marketing solution, which is free of charge. It is efficient when you'd like to boost your content strategy. You can use it to find new content ideas or insights into your desired audience. There are no problems in using FAQ Fox. It permits selecting certain site types, such as health, sports, cooking, etc. for easier search results. Such a niche selection will generate a list of sites for deep analysis. Use this marketing tool for writing actual blog posts, eye-catching articles, and step-by-step online guides. Give your readers the content they look for. Such a professional approach to content will help you build a company's awareness and get valuable leads in the near future.
Buffer
The last online marketing solution we would like to mention is Buffer. It is a powerful tool to boost your brand's social media presence. By using Buffer, you can streamline up-to-date content via Facebook, Pinterest, Twitter, Instagram, or LinkedIn. It permits creating posts and scheduling them in advance. To be sure that your posts find their readers, Buffer tracks the performance. Do you know that Buffer can save around an hour a month working with social media content? The program offers free and paid access to its features. There are two available packages: "Large Business" and "Small Business."
Useful Recommendations To Reach Maximum Success in Online Marketing
How can you succeed in online marketing and deal with enormous competition? You will need to look outside the zone of comfort. A business owner has to develop a unique and competitive strategy for attracting and keeping the target audience interested in your services and products.
You Can Improve Your Online Marketing Strategy by Following These Tips:
Auditing applied online marketing strategies
Even an experienced marketer needs to verify and audit all the strategies. Such activity has to be done on a regular basis to be aware of the current situation and all the achieved results. By doing the audit, you will never miss opportunities and will react on time to improve the marketing approach in your campaign.
It is recommended to schedule your audit on a quarterly/monthly/weekly basis. Some busy marketers do it only once a year. Evaluating on a more often basis gives better results. If you lack time and inbound resources, it is always possible to partner with reliable agencies specializing in online marketing. Such experts can analyze your media performance and give recommendations on how to improve the outcome.
Give your entire team access to the marketing strategy
Does your team include quite a lot of members? You will achieve better results if you share the information and communicate within your marketing department. Every member can impact the outcome, so engage everybody to be proactive. Make sure that your members have access to files, style guides, or brand guidelines. Does your team use such programs as Google Docs/Sheets? These cloud-based online programs are awesome for sharing critical documents with ease.
Predict the needs of your audience
If you want to be successful in online marketing, you must anticipate the interests and needs of your potential clients. Your vision and intuition should be sharp as a knife. Indeed, this asks for a time as you need to study your audience, but the impact will be fabulous. You should try a customer journey map that provides the essential point of reference. You will just need to follow the paths to satisfy your audience.
Final Thoughts
You can handle your online marketing campaign by yourself thanks to available services and solutions. In case you want to delegate it to a professional internet marketing consultant, we can recommend Innovation Vista team that will manage your marketing campaign with ease.