Influencers are not just people with millions of followers, and there are more and more so-called micro-influencers, who have just over 1,000 followers. Authenticity, creativity and perseverance are essential criteria if you want to improve your Instagram feed. Think carefully about what you actually want to post on your profile. Find your theme, filter type, and the days you will post your images. Let your imagination run wild, you can change the theme of the feed every season, every time you are not happy with your pictures, or make a rainbow feed. If you want a good Instagram feed, there are plenty of tricks and tips for doing so. Below, read some useful design tips that will attract many more likes and followers.
1. Good description
After you post the photo, you should add some suitable description. Many Instagram stars are based on a simple short description, and some don't even have one. Today, the use of emojis is very popular. For example, post an emoji that will describe you in a photo. Just please don't become obsessed as there is no need to post every emoji that you can find.
Through emojis you create a better connection with your companions and it is easier to understand and comprehend how you feel and what you actually want to say with that message. Just remember that people don't hear your words. Of course, for everyone sarcastic, emojis are best friends. The image will be completed by one or two hashtags. My recommendation is to use one popular hashtag, not a million that will ruin everything.
2. Stay consistent
If you imagine your Instagram profile as the face of your business or a business card, determine the style of its appearance. This is the first step towards creating an attractive Instagram feed. According to the CreativeDesignByFANA you should opt for strong or soft pastel colors especially for your business since those are the best colors for attracting additional people. You can only use photos or a combination of quotes, graphics, etc. Let your posts be minimalist style, vintage or very dark style. You may prefer cooler tones than lighter tones. No matter which style you choose, you need to stay true to it.
This means that each of your next posts will follow the design of the feed. He should match you to be recognizable and charismatic. If you want to publish photos that do not match your chosen feed layout, you can always publish them in stories. You can also use apps like layout grid for this purpose. It will help you establish a better schedule of posts on your profile. It makes it easy to create and plan content, because you can see how a particular photo will look on profiles before you publish it. That way you will stay true to your style.
3. Create dynamic content
While it is recommended that you stay consistent with your chosen design, you should constantly post different images and videos. A feed constantly filled with friends, animals and jewelry becomes boring unless you have a feed theme.
If nothing else, then add various pictures and videos to keep it interesting. If you want to change the theme, post a few white pictures that will represent the transition. This way, your friends will recognize the change in design, but it will not be noticed immediately. We're sure you'll be overjoyed with the final look as soon as you post 7 new photos.
4. Publish high quality photos
The quality and style of editing greatly affect the final look of the feed. Based on that, your companions will bypass or notice you. If you do not have enough experience in editing and creating quality photos, you can use different editing platforms. However, many pay if you want to unlock some great features. To create a good photo, you need to avoid selfies. Although we have all been obsessed with selfies for a while and constantly posting photos with our best friend, family or favorite artists, you should keep these photos to a minimum.
Many influencers who post selfies emphasize something from that picture in order to divert attention from themselves. If you want your selfie to look glamorous, you need to find a good light, because it is essential. Don't forget about adequate shots, because certain angles can positively or negatively affect the photo. Messy room can distract your friends and therefore cut out unnecessary parts. In the end, be your own. Show your smile, spontaneity, your beauty, but also your flaws. Have fun and you will leave a great impression on your companions.
5. Create unique Instagram Highlights
This option is a great way to quickly and easily entertain and encourage your followers to follow you. Today there are a lot of apps for creating creative Instagram stories that make your whole job easier. Of course, save all successful posts in Higlights, because that way you will offer your followers a unique journey through your post history. Stories are on the way to taking the lead role when it comes to feeds, and that brings the possibility that by entering Instagram, you will find stories instead of posts. Digital media sharing apps like www.greenfly.com can help build even greater story appeal.
6. Plan your content
If you want to have complete control over the look of your profile, then don't skip the planning and testing phase. This is definitely the most important item of all infusers. This process may seem like a waste of time now, but the effect is just the opposite. Once you plan and prepare your posts for the next few days or longer, you won't waste time every day thinking about a new post or looking for inspiration. You will immediately know what you are publishing that day, because you have planned and prepared everything in advance. You can continue to deal with other obligations that are on your list.
Conclusion: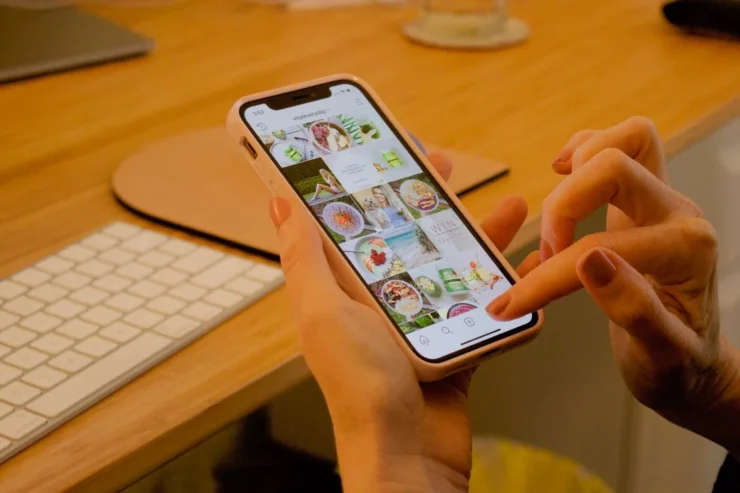 And if you want to automate your conversations in Instagram just use multi-channel marketing platform SendPulse. We are sure that you will be able to create something that you will be proud of.