Although for much of its development history cryptocurrencies remained a relatively niche pastime, one of the strongest signals that crypto had spilled over to the mainstream came with the onslaught of celebrity endorsements that have flowed in recent months and years.
Celebrities from all walks of the entertainment sector have got in on the rapid rise of cryptocurrencies by signing incredibly lucrative endorsement deals. This has led to everyone from Snoop Dogg and Matt Damon to Tom Brady and Gisele Bündchen endorsing cryptocurrencies.
Although we haven't seen celebrities endorsing more niche projects such as SLP, their endorsements have nevertheless helped to increase the cryptocurrency prices of various other projects in the crypto space, as you can see here at OKX.com, as well as to raise public awareness of crypto in general. With that said, let's take a look at some of the most notable celebrity crypto endorsements.
Matt Damon
As one of Hollywood's leading male acting talents, the Oscar-winning star of 'Good Will Hunting' starred in Crypto.com's now infamous "Fortune Favors the Brave" commercial. This advertisement was broadcast to millions around the world when it debuted in October 2023 and has since gone on to be one of the industry's most well-known commercials.
Although Matt Damon's crypto ad was viewed as a relative success given how memorable it was and how much hype it generated, it wasn't without its detractors. Perhaps most hilariously, Matt Parker and Trey Stone of South Park fame eviscerated the Crypto.com ad in their latest movie.
Tom Brady
Despite the fact that he is one of the highest paid professional athletes ever, Tom Brady couldn't help earning a bit of extra cash when FTX approached him with a partnership deal in the summer of 2023. The result of this celebrity cryptocurrency endorsement was that the seven-time Super Bowl-winning quarterback eventually starred in a commercial for the FTX exchange, which he appeared in with his supermodel wife, Gisele Bündchen. This advertisement also led to Brady launching the now infamous crypto catchphrase: "I'm getting into crypto with FTX. You in?".
Mike Tyson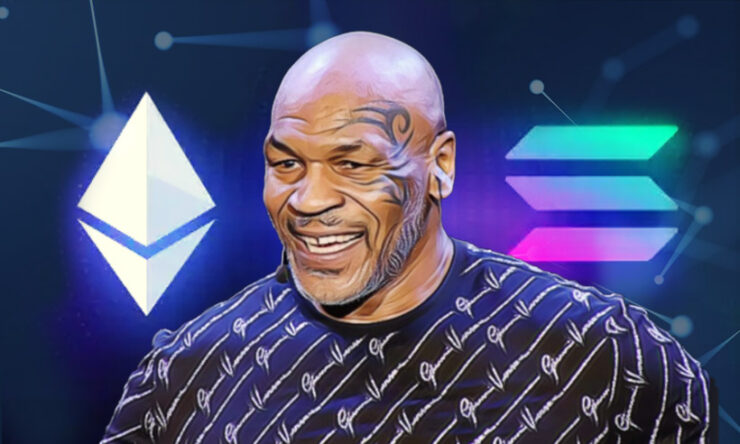 Once considered the greatest heavyweight boxer in the world, in more recent years, the former heavyweight champion has reinvented himself as a podcast host. However, in addition to launching his own cannabis farm and range of associated products, Mike Tyson has also dipped his toes into the crypto world.
Tyson launched his bespoke NFT collection in 2023, just as NFTs were undergoing a massive surge in popularity. Of the various pieces included in this NFT collection, there was even one that depicted the now infamous ear biting incident when he took a chunk out of Evander Holyfield's ear. Another NFT included in the collection portrayed one of Tyson's beloved racing pigeons.
Although the price of this NFT collection has dropped significantly since it was first launched in July 2023, fans of Tyson appreciated the personal touch this collection brought.
Reese Witherspoon
Although Reese Witherspoon is by no means the first name that pops into your head when you think of cutting-edge digital technologies, the 'Legally Blonde' actress apparently has a longstanding interest in cryptocurrencies.
Most notably, Witherspoon tweeted that crypto was "here to stay" all the way back in December 2023. Since then, Witherspoon's media company Hello Sunshine formed a partnership with the 'World of Women' NFT collective. This was developed out of Witherspoon's desire to create a digital community celebrating representation, inclusivity and equal opportunity.
Mark Cuban
Given that the business-savvy billionaire Mark Cuban is always trying to get in on the latest investment opportunity, it is perhaps little surprise that he quickly pivoted towards cryptocurrencies when the sector first started to skyrocket.
Since then, Cuban has supported a range of different projects in the crypto space, including NFTs and, more controversially, yield farming. While not all these projects have worked out, such as the infamous TITAN token that has tumbled 99% in value since it was launched in June 2023, he remains committed to the industry.
Celebrity crypto endorsements: Are they here to stay?
Given that we now find ourselves in a bit of a cryptocurrency winter, where prices look set to stagnate for some months, the question remains to be answered: can we expect many more celebrity crypto endorsements in the future?
On the one hand, so long as crypto companies are willing to pay them, it seems likely that celebrities will continue to be drawn to the industry.
On the other hand, however, several celebrities have found themselves in hot water over these endorsements. Perhaps most notably, the hyper-famous influencer Kim Kardashian was called up by the SEC for her involvement in a dubious endorsement deal in which she promoted a dodgy investment project.
As a result of this, Kardashian eventually agreed to pay a whopping $1.26m fine to the SEC. This is particularly painful given that Kardashian was paid $250,000 for the offending post where she failed to disclose that it was an advertisement.
Although this fine speaks volumes to Kardashian's own lack of transparency, it also speaks to the message the SEC is trying to send to the industry. This message being that celebrities should tread very carefully if they find themselves promoting investment products in a way that individuals may perceive as investment advice. This difficulty itself perhaps speaks to why so many celebrities backed NFT projects, given that they wouldn't be bound by the same need to disclose their financial interests in promoting them.
What specifically this spells for the future of the cryptocurrency sector remains to be seen. However, it is more certain that we can expect to see celebrities being a lot more cautious in partnering with the major players in the crypto industry.