When it comes to your wardrobe, most women can feel overwhelmed. The truth is that there is a ton of different options and outfits that one can go for. However, picking out what to wear to work might be a challenge. Are you a casual, business, or business-casual girl? Either way it may be keep on reading since we will talk about a ton of important rules and tips and tricks that will interest you when it comes to picking out an outfit.
11 things to know about Business Attire & Workwear for Women
1. Know the difference
Do you know the difference when it comes to business casual attire or formal business? Although it may sound alike, the truth is that there are obvious differences. Business casual is a somewhat relaxed style of office wear. Most offices implement this type of dress code for casual Fridays (for some companies). Formal business attire is a lot more "strict" and traditional, often worn by those who don't have a lot of freedom when it comes to their fashion or workspace.
2. Office options
When dressing for the office, it's important to feel comfortable as you'll be wearing these clothes all day and probably during your 6-12 hour shift (depending on the job you do). This is why most women stick to some pants or trousers instead of tight or short skirts. Most lawyers have to have to wear strict business-appropriate attire.
3. Interview clothes make a difference
Everyone will try to land the job by coming to the meeting wearing their perfect outfit! In fact, fashion is a way for you to make a statement and get recognized without saying a word. This is why for your new job, the first day at work or during the interview you should reach for your best clothes and something flattering. Opt for a safe all-black outfit with a pop of color through your jewelry or accessories.
4. Transform your outfit when you can
A lot of women will try to change their attire from workwear to something chic and perfect for a night out! This especially applies to Friday workwear. If you have to switch up your outfit go for a flattering cocktail dress and a blazer to hide bare shoulders or that deep V-cut. Bring a clutch bag with you and your favorite pair of hoop earrings to switch up the look in 2 minutes! Pack these in a separate bag and have your mini-makeover before you clock out.
5. Summer workwear options
Nailing the perfect business outfit in the heat of summer can be challenging. This especially applies to those places where bare shoulders or knees are seen as inappropriate. This is why you should aim for some simple lightweight pants that have more space for you to breathe in. Go for an oversized loose blouse that is lightweight (but not see-through) and look professional without being heated.
6. Winter workwear options
If you experience true harsh cold winter (temperatures dropping below 0 degrees Celsius), you might also face a challenge for your attire. This is why blazers and chunky turtlenecks will be a must-have in your closet! Go for some thick socks and opt for ankle or knee-high boots instead of pumps to stay warm. A simple lightweight scarf or shawl will make a loud impression, yet will protect you from freezing wind!
7. The right pants
Business pants for women come in many varieties and they are not as simple or straightforward as pants for men are. You can go for straight-leg, bootcut, and cigarette styles, all beautiful and complimentary in their own way. However, watch out for the length of your pants. You don't want to trip over them. Also, go for light colors, such as neutral hues, or pastel colors if it is the spring season. Usually, black, navy, and grey are ideal. You can visit www.vibeclothingcompany.com  to find the right pants to use when working in the office.
8. Choose your skirt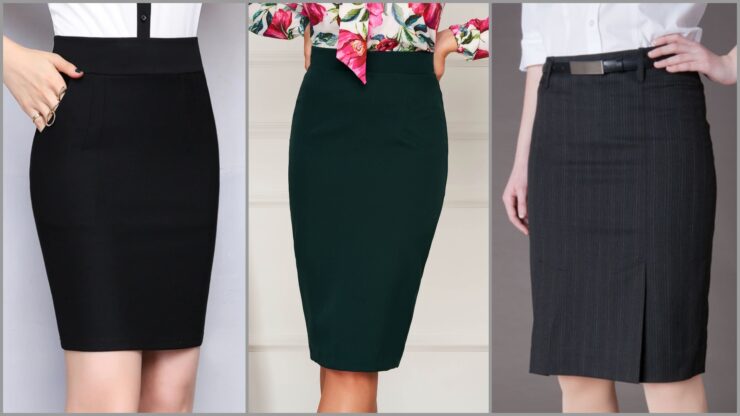 The skirt is not mandatory. Although our grandmothers had to wear them when going to work, we are left with a lot more options and freedom. If you want to smarten up and sharpen your outfit while emphasizing your feminine side just know that the length of your skirt is crucial. In most cases, the right length should finish around your knees or below (never above). Go for something loose and comfy for everyday smart wear.
9. Suits for those who want to stand out
A business suit is always a good go-to! You can mix and match or opt for the same color scheme from one brand in particular. When choosing a suit, it's best to keep things simple with a neutral color. Do not go too crazy with fabrics or embellishment either. Your chosen suit should be flattering without being tacky. Luckily, you can find a ton of cool options at an affordable price. No reason to shop at high-end stores. Sometimes thrift stores will have some cool hidden gems.
10. Add accessories and properly match your shoes
Conservative accessories and closed toe-shoes round out your business formal wardrobe, as you probably know it. This is why most fashion experts believe that subtle stud earrings and dainty necklaces will do the job! If you can, aim for all-silver or all-golden jewelry. Sticking to the same color scheme and simply investing in high-quality items every year will pay out a lot better than if you had 30+ items made of zinc. Build your little collection early on and your future self will be thankful.
11. The right shirt
You can't go wrong with a button-up shirt for work, but you have to get the right cut, length, and color scheme. This is why you're going to enjoy Ella Hopfeldt! Enjoy a high-quality pink shirt with French cuffs and its 100% cotton-twill, along with a tailored fit. Made in Europe and business-appropriate, their site also offers other trendy colors, along with a fitting guide that will help you find your perfect match! Check out their site and enjoy the highest quality shirts for any business.