As the days go by, you suddenly look at your calendars and realize Black Friday is just around the corner. You are searching for the most fantastic offers you can purchase in advance of the mega sale day as it draws nearer, allowing you to start your shopping and saving early.
Our Pick
Amazon's Choice
Good Choice
Don't Miss
yeedi vac 2 pro Robot Vacuum and Mop Combo, 3000Pa Suction with "Patented" Oscillating Mopping,...
iRobot Roomba j7+ (7550) Self-Emptying Robot Vacuum – Identifies and avoids obstacles like pet...
roborock S7 Robot Vacuum and Mop, 2500PA Suction & Sonic Mopping, Robotic Vacuum Cleaner with...
Dreametech W10 Robot Vacuum Cleaner and Mop, Sweeping, Mopping, Washing and Drying 4in1, Robotic...
Our Pick
yeedi vac 2 pro Robot Vacuum and Mop Combo, 3000Pa Suction with "Patented" Oscillating Mopping,...
Amazon's Choice
iRobot Roomba j7+ (7550) Self-Emptying Robot Vacuum – Identifies and avoids obstacles like pet...
Good Choice
roborock S7 Robot Vacuum and Mop, 2500PA Suction & Sonic Mopping, Robotic Vacuum Cleaner with...
In recent years, robotic vacuums have grown in popularity and availability among interested consumers. You won't ever have to worry about scheduling time to vacuum when you have a robotic vacuum in your home. They can be set up to go around the house while you are away. If your schedule is consistent, just arrange the scheduling so that the task is completed while you are at work.
We'll explain where, when, and how to find the best prices in this guide.
1. Yeedi Vac 2 Pro
Robotic vacuum that may be used as a stand-alone vacuum, the Yeedi Vac 2 Pro sweeps and mops floors. The onboard trash can be automatically emptied into the base station using an optional auto-empty station, which reduces the frequency of trash can empty. In contrast to most other mopping systems, the Yeedi has certain unique features. As it moves across the surface, this mopping module oscillates to scour the hard flooring.
You can establish a timetable and forget about the Yeedi Vac 2 Pro because it has a fully functional app. According to Yeedi, the vacuum has a suction power of 3000 Pa [pascal], which is a lot compared to other vacuums of a similar design. The app's three-choice middle suction setting was a good compromise between volume and performance.
2. iRobot Roomba J7+
The self-emptying Clean Base and the robot vacuum are parts of the iRobot Roomba j7+. The Roomba J7+ has a three-step cleaning process that includes two rubber brushes that can be used on every type of floor, a side brush that cleans the sides, and powerful suction. It's also quite intriguing to use these rubber brushes to get rid of pet hair. This robot vacuum cleaner makes it simple to remove dog and cat fur.
The companion iRobot HOME app is used to operate the Roomba j7+. You may keep tabs on your robot vacuum here after adding it successfully, examine its cleaning history, and set up cleaning routines. Your robotic vacuum cleaner can also be given a new mission. You can specify the area and duration of the robot vacuum cleaner's sweeps.
3. Roborock S7
The mopping feature on many self-described hybrids merely moves water around. The most recent 2-in-1 from Roborock is a meticulous monster on wet and dry accounts. The S7 is more solidly constructed and offers a more hands-free cleaning experience because it is pre-configured to work with a self-emptying station.
The S7 smoothly transitions between rugs and carpets while remaining mild on tile and hardwood floors. Each space is scanned by laser scale sensors to determine the appropriate route, changing suction for large objects like cereal or little ones like salt. The mopping feature is equally mindful of soft floors, moving the entire vacuum off the floor to prevent a wet rug. By using a voice assistant or the Roborock app, the Roborock S7 can be managed. The Roborock S7 is compatible with other smart home hub apps, including Google Home and Mi Home.
4. Dreametech W10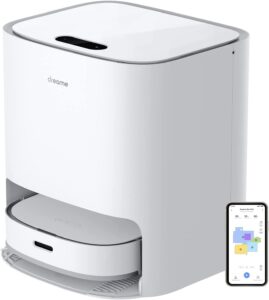 The most recent self-cleaning rob mop and vacuum with three cleaning modes is the Dreametech W10. Dreametech W10 is highly tough on mistakes but kind to the user. W10 tackles dirt and difficult stains simultaneously thanks to its two rotating mop pads and 4,000 Pa maximum suction. Stains are thoroughly cleaned when 10 pounds of pressure is applied to pads spinning 180 times per minute.
The Dreametech W10 expertly maneuvers around up to 3,000 sq ft of space while avoiding no-go areas with the use of LiDAR Navigation and SLAM technologies. Due to Alexa integration, it can be controlled by voice and the Mi Home App.
Buying Guide For Robot Vacuums
Smart
Robot vacuums with WiFi capabilities can be connected to a smartphone app to manage to schedule, change cleaning options, manual start, and to instruct your vacuum to go on errands when you're not home. Low-end devices without WiFi typically have a separate remote. A model with voice integration will fit in well if you're used to asking Alexa or Google to dim the lights or provide the weather information.
Modes of Cleaning
Examine the many cleaning modes that are offered when buying a robot vacuum. The majority of cleaners have modes and suction adjustments so they can adapt to various floor types. Some robotic vacuum cleaners also include a spot mode for removing messes or sharp edges.
Navigation
Each robot vacuum cleaner relies on a different set of sensors to operate. The robot vacuum cleaner is equipped with sensors that can help identify how much dirt is there, depending on the manufacturer or model. Therefore, it's always a good idea to buy a cleaning robot that can move around the rooms with ease and avoid potential dangers like tumbling down stairs.
Mapping
Nowadays, the majority of robot vacuum models that hit the market come with mapping capabilities. Some gadgets include an integrated camera. They can also be laser reflections as an alternative. These elements are just intended to provide a 360-degree picture of the space. You can determine which region needs cleaning thanks to this feature on a robot cleaner.
Battery
The majority of robot vacuum cleaners come with a battery dock, allowing them to return to it for a charge as necessary. When you need the cleaning to be done fast, always use cleaners with high battery life. Consider using the self-charging function instead of plugging the robot vacuum each time its battery runs out.
Conclusion
Robot vacuum cleaners are the perfect appliance, especially for households with children and pets. Some of the essential factors that you should consider if this is your first purchase are discussed in our guide to robot vacuum cleaners. With the options mentioned earlier now readily available, we are confident that reading this buying guide would be an excellent place to start when deciding which one is best for your house.
If these weren't enough, check out some other picks from Amazon also: