Every girl dreams of having the French girl style. The style is represented as the attitude. In Paris (the fashion capital), skin care is mandatory, hair is somewhat loose yet treated, and the makeup is an accessory.
Image
Editor's Pick
Good Choice
Don't Miss
Also Consider
Product Name
Embryolisse Lait-Crème Concentré, Face Cream & Makeup Primer - Shea Moisture Cream for Daily...
Bioderma - Sensibio H2O - Micellar Water - Cleansing and Make-Up Removing - Refreshing feeling - for...
La Roche-Posay Anthelios Tinted Sunscreen SPF 50, Ultra-Light Fluid Broad Spectrum SPF 50, Face...
Eau Thermale Avène Thermal Spring Water, Soothing Calming Facial Mist Spray for Sensitive Skin -...
Below in the list, you can see the ten staples every girl needs to have in the bathroom, if you want to be "cool". Here is the list:
Our Top Picks
1. Embryolisse Lait-Crème Concentric Moisturiser
This one serves both as the primer and moisturizer. It has been used by many leading dermatologists and makeup artists.
The product is also known as the "24 hour miracle cream".
2. Bioderma Sensibio H20
This product is widely used, not only within France. It has the formula that not only cleans the skin but it also removes the makeup. Bioderma Sensibio H20 is a soap, fragrance, alcohol-free product and it can be found in many bathrooms in France.
As women do not skip the removing of the makeup, they all agree that the clear skin begins with the great cleanser.
3. La Roche-Posay Anthelios XL Ultra-Light Fluid Facial Sunscreen SPF 50+
Nobody does it better than the French pharmacy brands. This product will help you to protect yourself from the sun damage and at the same time it will fit perfectly with the makeup.
With broad-spectrum protection, it is perfect for all types of skin, and it is invisible. It is filled with the glycerine and the Thermal Spring Water, this product is the essential part of the women's bathroom.
4. Avène Thermal Spring Water
One thing is sure, French girls love the face waters. We do not want to confuse you with the old water, this one that is ultra-dine mist calms and sooth the skin as it decrease the inflammation and it relieves you from irritation.
Avène Thermal Spring Water is bacteriologically unadulterated and low in mineral substance yet high in silicates.
5. Avène Cicalfate Restorative Skin Cream
With a blend of copper sulfate, zinc sulfate and Thermal Spring Water, the Avène Cicalfate Cream treats a scope of skin-related conditions (again think: skin inflammation, psoriasis, ichthyosis, or dermatitis) while likewise assisting with dry skin.
It's a Parisienne go-to for cuts, consumes, scars, and so on.
6. Yves Saint Laurent Touche Éclat Radiant Highlighter
The French way to deal with a cosmetics base is less about basis and more about applying mask with prudence. Yves Saint Laurent Touche Éclat gives 'no cosmetics' a trace of brilliance.
This simple to utilize pen joins highlighter with a bit of concealer; it's ideal for disguising dark circles.
7. Caudalie Beauty Elixir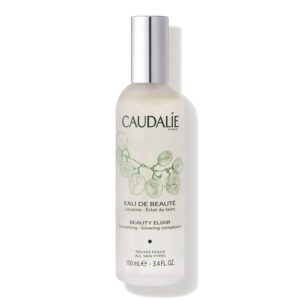 A stunner brand that was brought into the world at a winery in Bordeaux, it's no big surprise that the saint fixing in Caudalie Beauty Elixir is green grape.
Roused by Queen Isabelle of Hungary's acclaimed remedy of youth, this spray goes about as the best humectant (which means it brings water into your skin, making a plumping impact) before you apply lotion.
With ordinary use, Beauty Elixir will take your skin's hydration to a higher level! It additionally contains fundamental oils and plant concentrates to explain and light up.
8. Klorane Gentle Dry Shampoo
Even we do not have the access to every French girl bathroom, we'd risk a conjecture that most contain Klorane Gentle Dry Shampoo. Just discreetly, this dry cleanser is the key to that raised bed head style that is connected to any semblance of Jeanne Dammas.
It'll add surface and volume in not more than minutes so you can consummate those disheveled waves. Gracious, and it's even reputed that Karl Lagerfeld utilized it to make his hair totally white.
9. Rouge Dior Lipstick in 999
Red lipstick has that difficult to depict 'je ne sais quoi' impact and word on the road is that Dior's Rouge Dior Lipstick in 999 may very well be the ideal shade.
This religion exemplary is worn by any semblance of Camille Rowe and has a velvety surface that coasts on like spread.
10. Nuxe Huille De Prodigiuese
Talk about a multi-use oil! Nuxe Huille De Prodigiuese is a famous item that can be applied to the hair, body and face. This oil is a fundamental; it will leave your skin luxurious and can even serve as a hair veil or shower oil. The genuine inquiry: is there anything it can't do?
We hope you enjoyed the list and you have found something you have been searching for. Feel free to leave a comment in the comment section below.
Here are some other interesting models that you might like:
Sale
Honest Beauty Tinted Lip Balm | Antioxidant-rich Acai Extracts + Avocado Oil | EWG Certified, Vegan,...
Pucker up babes; Vegan Lip Balm that helps keep lips smooth and moisturized all day
Swipe on for nourishing sheer color that locks in hydration
Made with: Antioxidant-rich Acai Extracts + Avocado Oil; Works for all skin types
Made without: Petrolatum, Paraffins, Parabens, Synthetic Fragrances, Silicones, Mineral Oil
EWG Certified, Dermatologist Tested, Physician Tested, Cruelty Free, Vegan
Sale
MAXSOFT Hair Scalp Massager Shampoo Brush, Scalp Care Brush (Pink)
✔Shampoo brush with perfect grip handle to fit your hand comfortably (Manual with no battery required & Waterproof)
✔Scalp massager with soft thick silicone bristles stimulate blood flow to the scalp and oil glands (Deep clean and exfoliate the scalp)
✔Relax the scalp muscles and reduce stress (Wonderful Feeling)
✔No need to worry about your long nails or sensitive scalp (as well as all hair types)
✔Get one and start your scalp salon
Sale
POSTA 24K Gold Eye Mask, 20 Pairs Eye Treatment Mask With Collagen, Under Eye Mask Treatment for...
Look Younger & Refreshed: This 24k gold eye mask are collagen, hyaluronic acid, retinoids, vitamin C, 24K gold powder. without the expense of spa...
Ergonomic Design: The material, size and shape and retention were carefully chosen and calculated. The shape and size of eye pads were design to...
Obvious Effect & High Quality: 24k gold, plumping collagen, hydrating hyaluronic acid, refreshing vitamin c serum, anti aging seaweed polysaccharides,...
Easy To Use: Our collagen eye pads is non slippery, and you can wear it when you are lying or sitting for watching TV. It won't hinder you to do other...
Easy TO Apply: Simply open the pack / sheet and place under eyes and the hydrating cooling pads will do the rest! Formulated to reduce slipping and...
Sale
Gillette Mach3 Razor Refills for Men, 15 Razor Blade Refills
CLASSIC CLOSE SHAVE: 3-bladed men's razor that gives you a close shave without the fuss. Features open-blade architecture for easy rinsing
UPGRADED LUBRASTRIP for enhanced glide: An improved lubrication strip for extra glide (vs previous Mach3)
1 BLADE = 15 SHAVES. Get up to 15 shaves from each Mach3 razor refill
STRONGER-THAN-STEEL razor blades that stay sharper longer (vs. Sensor3)
Pairs perfectly with Gillette's Series Shaving Gel for added protection from shaving irritation
Sale
NaturesPlus Source of Life - 180 Tablets - Multivitamin & Mineral Supplement with Concentrated Whole...
MULTIVITAMIN - You need a great multivitamin to help you live your best life. That means you want Source of Life from NaturesPlus—whole food...
BENEFITS - Source of Life tablets support natural energy, a healthy immune system, and overall well-being. Plus, our formula includes vitamin D3,...
ALLERGEN INFORMATION - This vegetarian formula is free from the allergens gluten, yeast, wheat, soy, and milk, as well as artificial colors and...
QUALITY MANUFACTURING - Our state-of-the-art manufacturing facilities maintain continuous adherence to cGMP compliance, superior standards, and are...