As virtual classrooms become the norm, college professors adopt innovative instructional aides to enhance the educational experience. Dual displays with supports stand out as a game-changer among these instruments.
This article studies how dual displays empower professors in student assessment, engagement, research, advising, administrative duties, and professional development.
Dual Monitor with Stand
As the name suggests, dual-screen monitors with stands are two separate screens attached through HDMI graphic cards or DisplayPort cables. It enables users to extend their digital workstation across two displays, providing more screen space and increasing productivity.
The stability and adjustability of the supports or mounts enable users to position the displays at comfortable viewing angles. It also accommodates individual preferences and ergonomic requirements regarding screen positioning, tilt, and height adjustment. Check out the Mobile Pixels Geminos dual screen monitor if you want a premium-quality one.
Course Development and Curriculum Creation
College teachers can make course planning and curriculum creation much easier with the help of a dual-screen monitor. With one screen for course planning papers like handouts, lesson plans, and learning goals, teachers can get a complete picture of how their courses are and ensure they align with the rest of the program.
At the same time, they can use the second screen to look at various online tools, study papers, or training websites to find helpful information and keep up with the latest developments in their area.
This setup eliminates the need to switch between tabs or apps constantly. Hence, this lets teachers quickly add valuable resources to their course content and improve their students' general learning experience.
Lecture Preparation
Dual-screen monitors with stands provide the optimal workspace for college instructors to prepare for lectures efficiently. With one screen dedicated to making and organizing class materials like PowerPoint slideshows or lecture notes, teachers can carefully create visually exciting and valuable content for their students.
They can easily change the order of the slides, add video elements, and adjust the show's flow without stopping their study or reference. Teachers can access different academic databases, educational papers, or online libraries on the second screen to find relevant research articles, case studies, or examples that support and enhance their teaching.
This smooth merging of study materials makes the lesson topic more credible and profound, which helps students understand it better.
Student Evaluation and Grading
College teachers are responsible for evaluating and grading students' work. They need to know how to use the learning management system (LMS) or marking tools well in a virtual setting for tasks, tests, and exams.
Teachers can quickly move between student submissions and marking rubrics using dual-screen monitors on stands. The extra screen makes accessing additional resources like answer keys or marking standards easy, making the assessment process more consistent and accurate.
This setup improves effectiveness, reduces mistakes, and speeds up the scoring process so that teachers can give students quick and helpful comments.
Student Engagement and Interaction
College teachers need to create an exciting and involved learning setting. Professors can use dual-screen monitors with stands in physical and online classes to get students more involved. Students can participate and see what's happening using one screen to show lesson materials or other videos.
In virtual classes, teachers can show lesson slides or do live examples on one screen while using video chat tools or online discussion boards on the other screen to see how engaged their students are. This setup makes it easy for people to talk to each other, gets more students involved, and provides a lively learning environment.
Research and Scholarship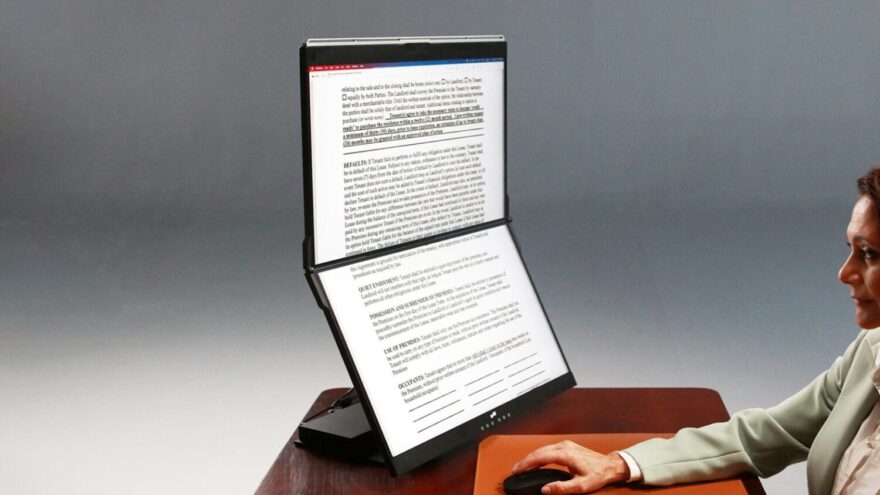 College teachers regularly take part in research and scholarly activities. Dual-screen monitors with stands are ideal for these activities. They can use academic libraries, online journals, and research management tools to find important material and do in-depth studies.
They can work on data analysis, scientific instruments, or code platforms simultaneously without switching apps all the time. This dual-screen setup speeds up the research process makes it easier to understand the data, and makes it easier to write well-researched papers; this increases total output and the quality of academic writing.
Advising and Mentoring
College teachers advise and mentor students regularly. Dual screens with stands make counseling more effective by making it easier to help and guide people. On one screen, professors can look at students' records, academic work, and schedules during advice meetings.
On the second screen, they can look at program standards, course lists, or job tools to get help immediately. This setup lets teachers give students specific services, keep track of their progress, and explore different academic or job paths. Thus, this improves the coaching experience and makes it easier for students to connect with peers.
Committee and Management Responsibilities
College teachers often have committee and management responsibilities in academic organizations. Having two displays is very helpful when doing these things. Professors can use the screens to attend virtual meetings, participate in group talks, read reports, and help make decisions.
Hence, this setup improves efficiency and the ability to do more than one thing at once, making it easier for teachers to work well on committees, speed up routine tasks, and keep their work organized.
Professional Development
Continuing professional development is crucial for college professors. With dual displays with stands, professors can attend virtual conferences, webinars, and professional development seminars on one screen while taking notes or accessing additional resources on the other.
This setup encourages active involvement, makes learning more accessible, and allows teachers to use new ideas or teaching methods in their classes. Also, teachers can use the dual screens to study online, look into new ways to teach or try out new educational tools.
Hence, this helps them improve their teaching skills, encourages new teaching methods, and ensures they keep growing as teachers.
Wrap-up
Using dual-screen monitors with stands has proved to be a revolutionary instrument for college instructors in online instruction. By harnessing the power of dual displays, professors can optimize their virtual teaching experience, maximize productivity, and provide students with a more prosperous educational journey.